Want to grow your investment portfolio with real estate investment trusts? If you do, we're sure you heard about REITs. Today, we discuss about REITs and how to make money investing in REITs in the Philippines in 2023 and earn passive income.
With the news of a bill passing in Congress that allows foreign entities to open companies here in the Philippines, it is a welcome time to explore real estate again.
What is a REIT?
REIT refers to Real Estate Investment Trust. REITs are companies that own and operate real estate properties to generate income. REITs include hotels, data centers, cell towers, hospitals, commercial areas, office spaces, shopping centers, apartments, warehouses, and other buildings. Investors prefer REITs because of diversification, lower risk, and higher returns.
How do REITs Make Money?
It is actually straightforward: rent income. Almost all REITs would simply lease out and collect rent on the various properties they own. The company then generates revenue out of this, and they then pay back investors through dividends.
The best part is — REITs are required to pay out at least 90% of their taxable income to their investors.
Philippine Law About REIT
According to Section 4 of the Republic Act 9856, a REIT shall distribute a total of at least 90% of its distributable income annually as dividends to its shareholders, not be later than the last working day of the 5th month following the close of the fiscal year of the REIT.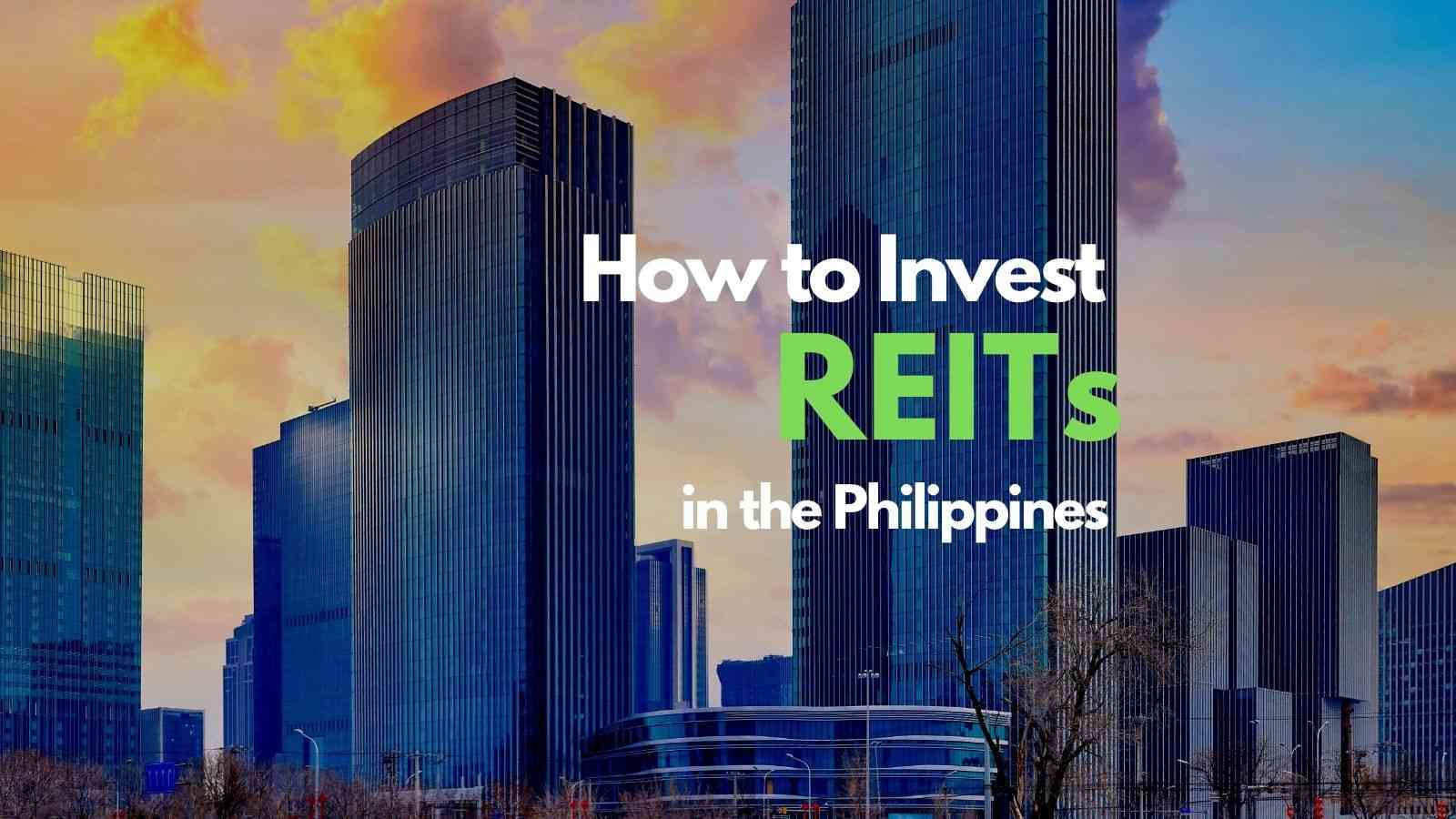 What are the Benefits of Investing in REITs?
1. Higher Earnings Potential
Real Estate Investments Trusts are historically one of the best-performing asset classes in the market today. Real properties grow in value over time and don't depreciate quickly. REITs also produce more income through regular rental revenue. They also can generate dividends and appreciate in value over time.
2. Very Affordable
If you want to take advantage of the growing performance of the real estate business without owning an expensive real property, invest in REITs. You can start investing some shares in a small amount of less than P5,000.
Let's face it, buying real property is very expensive. And more often, you have to pay a reservation fee and make a down payment aside from your monthly mortgages.
3. Zero Contract and Obligation
When buying a property, you have to take out a loan with a contract, scout the area, make sure it is a good neighborhood, and pay mortgages and parking spaces. You can avoid those stressful contracts and obligations by investing in REITs instead of buying a property, especially if your savings are not enough to start such a risky long-term contract.
4. Portfolio Diversification
Some REITs are already diversified, meaning they invest in different real estate properties such as shopping mall units, commercial buildings, office spaces, hotels, and the like. If you want to allocate a part of your portfolio to the real estate business, REIT is an excellent option. Diversification is one of the most effective strategies for investing.
5. Lower Risk
Because you are not locked in a contract, you can avoid many risks. When you diversify your portfolio with REITs, you can also minimize risk by extending your earning potential to different asset classes and allocations.
6. Easy to Withdraw
We can withdraw our investment in REITs easier because REITs are traded on the Philippine Stock Exchange. They are highly liquid assets that we can buy and sell shares at any time of the trading day.
What are the Risks of Investing in REITs?
All investments carry risks, and REITs are not exempted. While real estate investment trust accounts have attractive income potential, these assets are exposed in:
1. Market crash
A market crash could suddenly cause the value of REIT shares to drop, just like stocks and exchange-traded funds. Any investor who can't handle his REIT portfolio during a crisis could lose his money.
2. Disappointing company performance
Although REITs have stable businesses, the share prices of REITs are affected by earnings expectations. Disappointing earnings can drag down the chart of REITs on the market.
3. Poor economic outlook
Whatever occurs in the Philippine and the global markets can affect REITs' prices. Political instability, inflation, trade war, pandemic, and massive sell-off could cause the price of REITs to fall.
How to Invest in REITs in the Philippines?
Step 1: Open a trading platform that offers REITs
The quickest and most convenient way to invest and trade REITs in the Philippines is by using an online trading account. Investors can buy and sell shares of REITs using an accredited online broker by the Philippine Stock Exchange like BDO Securities, First Metro Securities, COL Financial, and BPI Trade.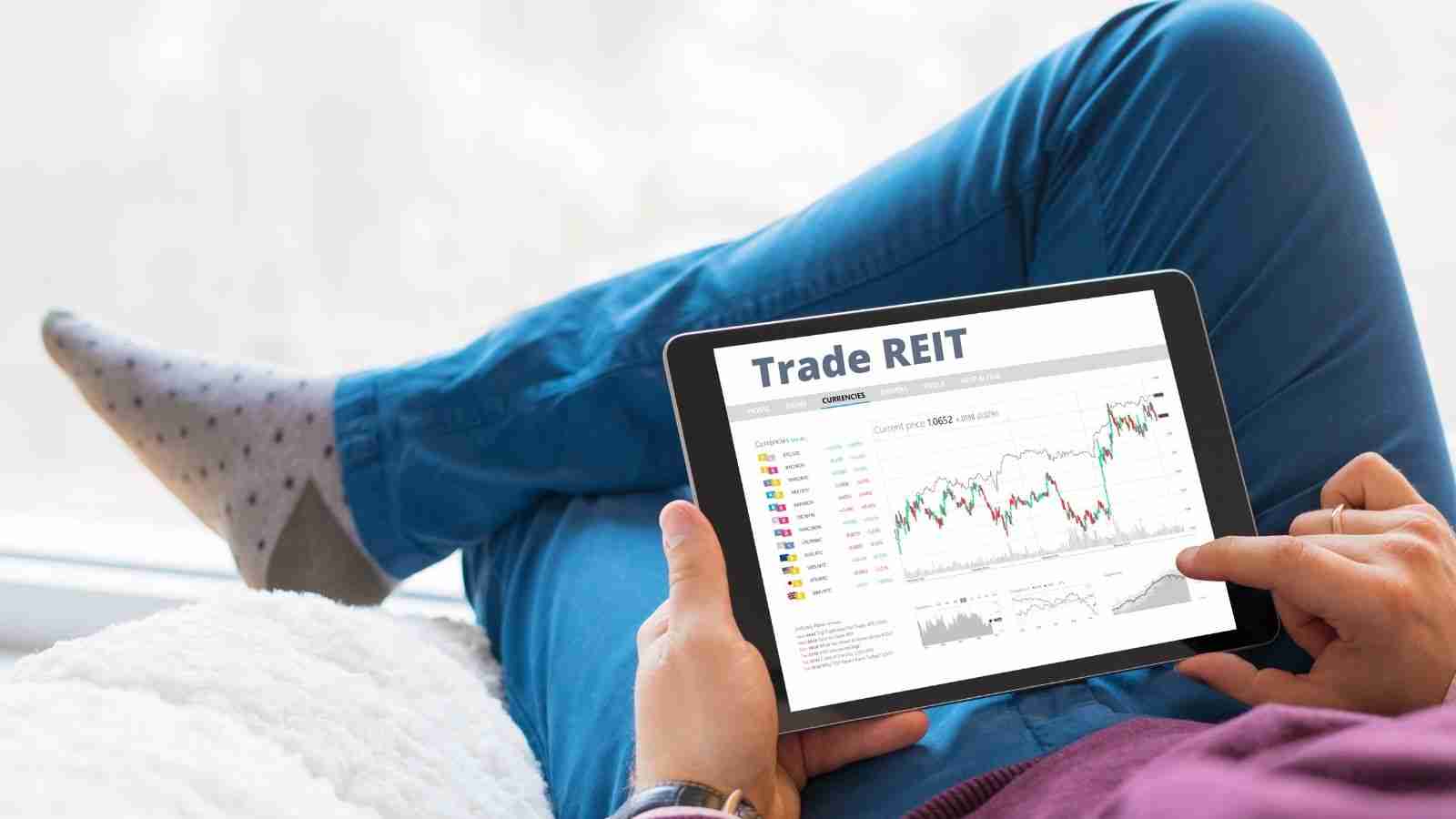 The best stockbrokers in the Philippines offer REITs. You can also make a subscription during an IPO (Initial Public Offering) through PSE EASy. You can enroll your PSE EASy account by following the guide here: "How to Open PSE EASy Account"
Step 2: Look for a well-established REIT company
Many REITs are available in the Philippines right now, but not all of them meet your investment criteria and objectives. When choosing your REIT investment, make sure you invest with companies that have great properties and tenants. It can also help to monitor the best-performing REITs in the market.
Things to consider when choosing the best REIT to invest in:
Portfolio composition – what properties are included in the real estate investment trust?
Location of its properties – the geographical area will help you decide better especially if it's within the CBD (Central Business District), BPO hub, or a booming commercial business area.
Dividend yield – can it beat inflation and is it higher than the 10-year government bond rate?
Tenants and long lease contract – who are the tenants and how long should they pay rent?
Healthy financials – the REIT company's financials should have a good track record and a strong balance sheet.
Bright outlook – are they expanding and do you think the rental income will be stable and continue growing in ten years?
If you are a beginner, leave the research and hard work to the experts. You can invest in REIT ETFs. REIT ETFs are composed of several REITs already. Investing in them will also offer the most diversification. Hence, a great advantage for you. Unfortunately, as of now, there is no REIT ETF yet in the Philippines. We're waiting for one soon, and we'll post about it.
Step 3: Plan your trading strategy
There are two ways to make money from REITs: dividends and value appreciation. You must plan your strategy to lock in your profit efficiently. One of the most effective techniques we apply when investing in REIT is the Peso-Cost Averaging method (PCA).
Using the PCA method, we buy shares of our chosen REIT every month and wait for the REIT to grow over time until we collect the dividends. We sell the shares until the REIT achieved a good profit. Otherwise, we continue to hold the shares and collect the dividends.
Step 4: Buy your shares of REIT
Buy some shares of your chosen REIT using your online trading account. Type the code or REIT ticker and start a BUY order following the board lot or required minimum number of REIT shares.
In the example below, we are buying 1,000 shares of MREIT (Megaworld REIT). Following our investing strategy, we will keep buying 1,000 shares every month.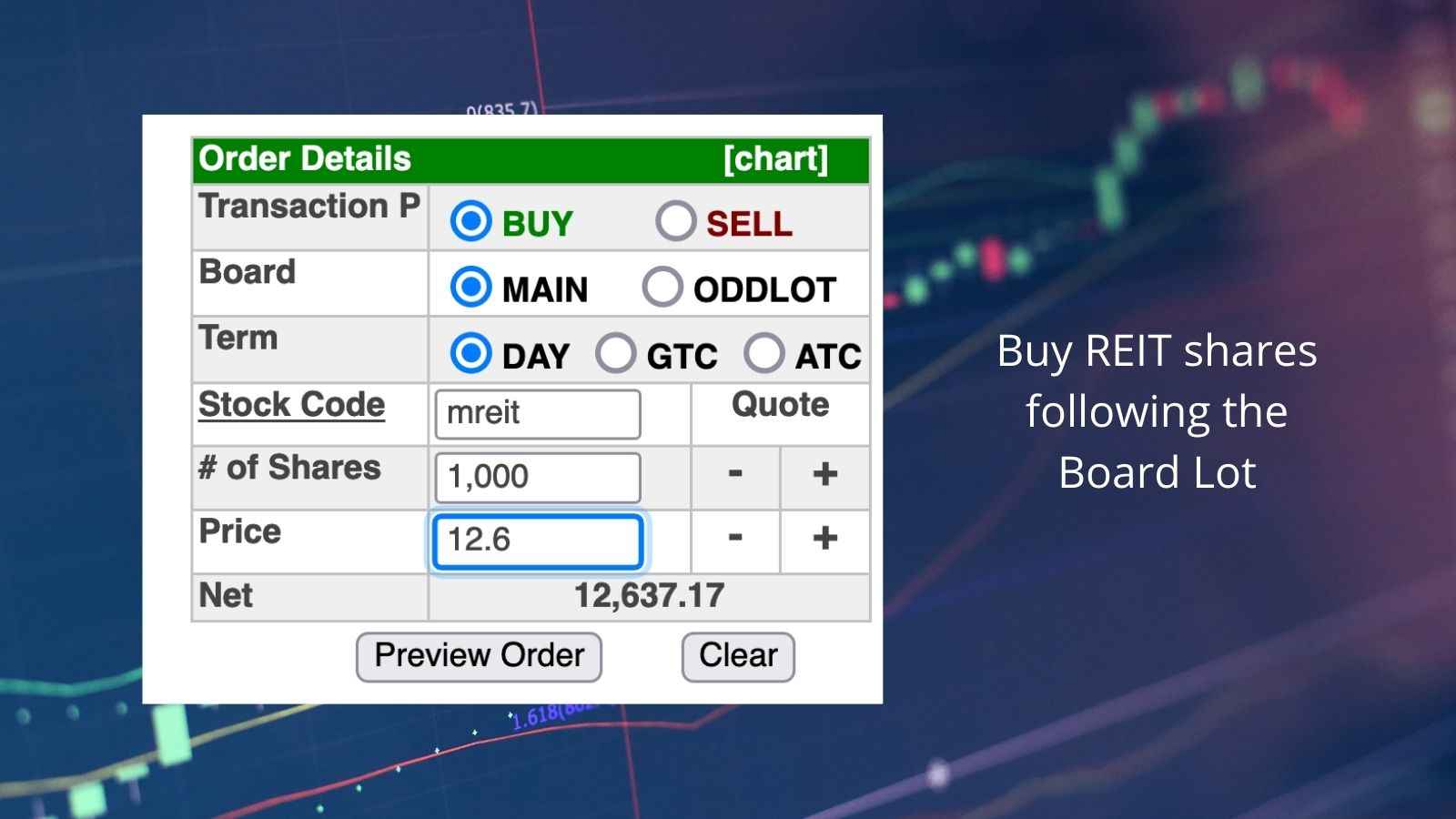 Step 5: Receive your dividends from REIT
REIT companies usually pay cash dividends every quarter in the Philippines. When the REIT company declared dividends, cash will be credited to our brokerage account on the payment date. Since Philippine law requires REIT companies to pay 90% of their taxable income as dividends, you will receive your cash dividends as long as your REIT company makes money.
Step 6: Sell your shares of REIT
It's that time of our investment journey that we have to sell our shares of REIT to lock in profit. Selling our shares does not mean ending our REIT investments. Selling in profit is part of the process to reinvest our money, especially during market corrections or market crashes. After all, the stock market moves up and down. The only sure thing in the stock market is that prices will continue to fluctuate.
Step 7: Reinvest your funds with REIT
Rinse and repeat the process by reinvesting your funds and finding an established REIT that is fairly valued or an excellent performing REIT in the Philippines. Stable REIT companies will continue to reward dividends as long as they are profitable.
Best REITs to Invest in the Philippines in 2023
Citicore Energy REIT (CREIT)
Comparison of REITs in the Philippines
| REIT | REIT Type | Div. Payment | Est. Div. Yield |
| --- | --- | --- | --- |
| AREIT | Mix of office, retail, industrial | Quarterly | 6.03% |
| DDMPR | Office | Quarterly | 8.53% |
| FILRT | Office | Quarterly | 6.47% |
| RCR | Office | Quarterly | 7.43% |
| MREIT | Office | Quarterly | 8.17% |
| CREIT | Renewable Energy | Quarterly | 8.22% |
| VREIT | Retail | Quarterly | 5.53% |
FAQ About REITs in the Philippines:
Do REITs have fees?
Yes, because REITs are traded on the Philippine Stock Exchange (PSE). REIT fees include a commission fee of .25% of the gross trade, .005% PSE Transaction Fee, Securities Clearing Corp. of the Philippines (SCCP) fee of .01%, 12% VAT of the commission, and sales tax of .006% when selling shares.
What is the best REIT in the Philippines?
The best REIT in the Philippines in terms of performance, dividend yield, and portfolio composition is Ayala Land REIT. AREIT has an outstanding performance since its inception amidst market challenges. Although its estimated dividend yield of 6% is lower than the other REITs, it's still decent. AREIT has a strong moat and is backed up by Ayala Land, Inc., one of the largest property developers in the Philippines.
Are REITs better than stocks?
Both REITs and stocks are better investments than regular deposit accounts because REITs and stocks can generate passive income through dividends and growth value. Likewise, both assets are volatile; hence, investors must consider the risks and execute a good strategy to manage their portfolio.
How to earn dividends from REITs?
To earn dividends from REITs, you need to buy some shares of an established REIT company with a good track record. Hold your shares for a year or more and wait for the payment of cash dividends (they are paid every quarter). You can also invest more shares regularly to earn more dividends.
Which REIT in the Philippines pays the highest dividend?
There are seven REITs on the Philippine Stock Exchange, and DDMP REIT (DDMPR) has the highest projected dividend yield as of this date. But that doesn't mean it's the best performing REIT in the country.
Can you lose money investing in REITs?
Yes, you can lose money investing in REITs when you sell your shares for less than your buying price. To avoid losses, invest only in a stable REIT company and buy shares periodically. Hold your shares until you earn the dividends and until the market value of your REIT shares grows over time.
How to trade REITs in the Philippines?
First, you need to open a stockbroker account accredited by the Philippine Stock Exchange. Then you need to fund your online trading account before buying shares of your chosen REIT company. Hold your shares of REIT and sell them when it reached your target profit.
How do I sell my REIT shares?
Log in to your online trading account. Visit your Portfolio page and select the "SELL" button beside your REIT investment. Indicate the number of shares you want to sell following the board lot or the required minimum shares allowed to sell.
Other Investing Guides:
Now that there are REITs in the country, we are waiting patiently for a REIT Index in the Philippines. Do you think that will happen anytime soon?
Leave your comments below if you have any questions about how to invest REIT in the Philippines.
Disclaimer: This article is for information purposes only and should not be considered as a professional advice. REIT investments have risks. Risk only the money you can handle to lose. Always do your own research and perform due diligence before investing any asset.