The top 35 companies of the UK100 index in terms of market capitalization are listed below. London Stock Exchange is one of the largest and most active stock exchanges in the world. Investing with many top British companies gives us so many trading opportunities.
The United Kingdom is one of the strongest and largest economies worldwide. It is also one of the richest countries in the world for many centuries. On this page, we're sharing the top 35 and biggest companies listed on the FTSE 100 index.
What is UK100 Index?
UK100 index is also known as FTSE 100 index (Financial Times Stock Exchange 100 index), UK 100 Spot index, and "Footsie." It is a stock market index comprising of the 100 largest blue-chip companies traded on the London Stock Exchange in terms of market capitalization.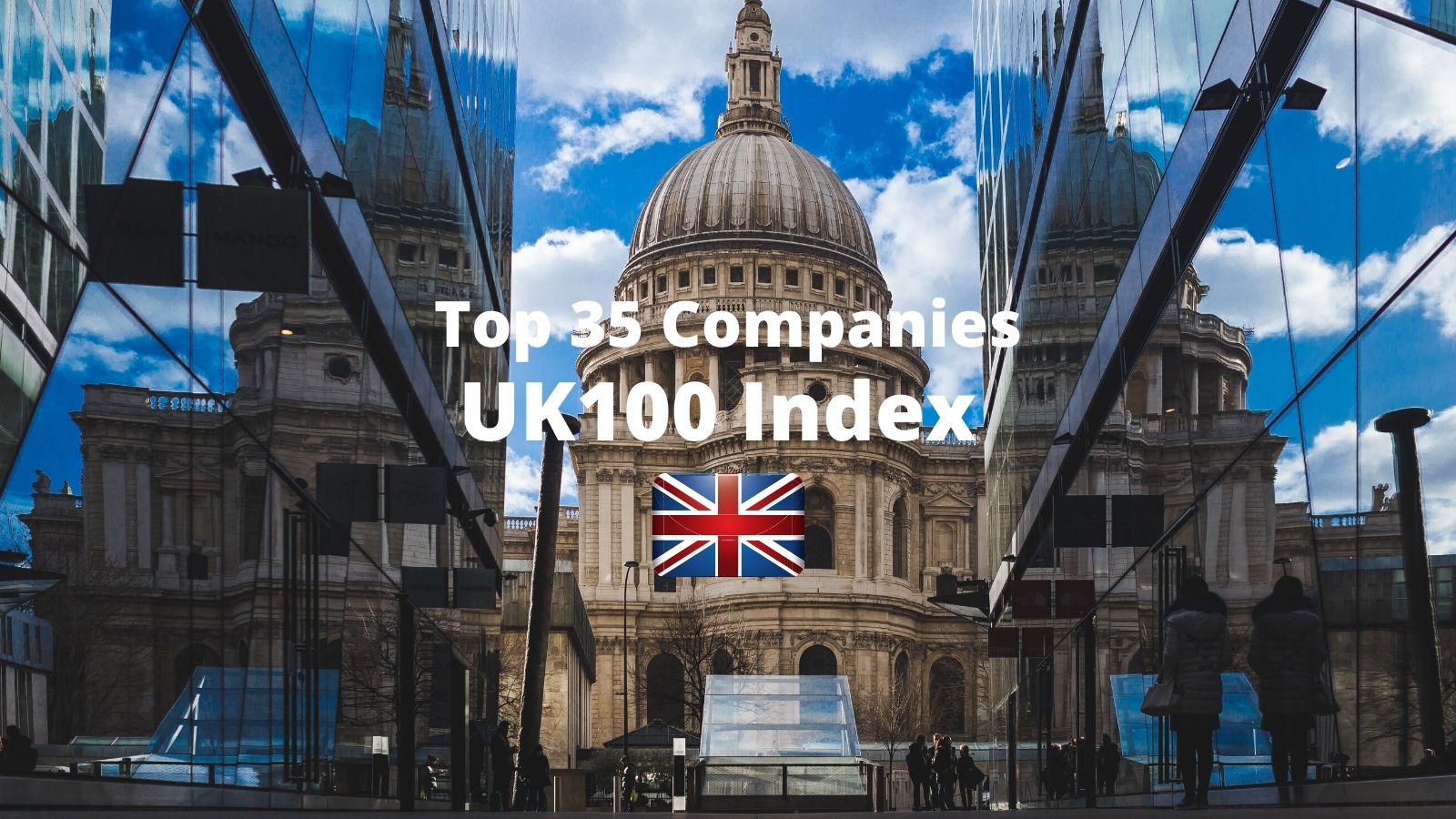 Top 35 List of Companies of the UK100 Index in 2022
Like many other stock market indices, the UK100 index goes through portfolio adjustment and re-balancing every quarter. The 100 stocks listed are screened according to their strict criteria for FTSE inclusion eligibility. A company could enter or exit after the evaluation.
The following are the top 35 companies listed on the FTSE 100 index in terms of market cap as of May 4, 2022.
| Company | Market Cap. (in GBP) |
| --- | --- |
| AstraZeneca | 165.60 Billion |
| Shell | 163.26 Billion |
| HSBC Holdings | 100.88 Billion |
| Unilever Group | 95.14 Billion |
| Diageo | 92.44 Billion |
| GlaxoSmithKline | 91.35 Billion |
| BP | 76.46 Billion |
| British American Tobacco | 76.30 Billion |
| Rio Tinto Group | 71.28 Billion |
| Glencore | 65.44 Billion |
| Anglo American | 47.96 Billion |
| RELX | 46.12 Billion |
| Reckitt Benckiser Group | 44.60 Billion |
| National Grid | 43.52 Billion |
| London Stock Exchange Group | 40.13 Billion |
| Vodafone Group | 34.34 Billion |
| Lloyds Banking Group | 32.01 Billion |
| Compass Group | 30.36 Billion |
| Prudential | 27.76 Billion |
| Experian | 25.74 Billion |
| Barclays | 24.84 Billion |
| CRH | 24.62 Billion |
| BAE Systems | 23.32 Billion |
| NatWest Group | 23.02 Billion |
| Ferguson | 21.92 Billion |
| Tesco | 20.73 Billion |
| SSE | 19.94 Billion |
| Ashtead Group | 18.54 Billion |
| BT Group | 17.60 Billion |
| Standard Chartered | 16.47 Billion |
| SEGRO | 16.14 Billion |
| Aviva | 15.97 Billion |
| Imperial Brands | 15.83 Billion |
| Antofagasta | 15.29 Billion |
| Legal & General Group | 15.05 Billion |
Top 35 Stocks of UK100 Index by Market Cap
1. AstraZeneca (AZN)
AstraZeneca is a British-Swedish global, science-led pharmaceutical company that discovers, develops, manufactures, and markets medicines used by millions of patients worldwide. Their scientific breakthroughs to cancer treatment, cardiovascular diseases, diabetes, covid19 vaccine, and many more medications continue to contribute to the world's health care.
2. Shell (SHEL)
Royal Dutch Shell rebranded into Shell. Shell is a British-Dutch multinational oil and gas company. It is one of the largest companies in the world in terms of revenue. The oil giant is also listed on many stock exchanges, including the New York Stock Exchange and London Stock Exchange. It's always among the top UK100 index companies.
3. HSBC Holdings (HSBA)
HSBC is one of the largest banking and financial services companies in the world and the biggest one in Europe. The company operates in 64 countries and territories across Europe, Asia, North and Latin America, the Middle East, and North Africa. They serve more than 40 million customers worldwide.
4. Unilever Group (ULVR)
Unilever is one of the biggest consumer goods companies in the world. Founded in 1929, it houses popular brands like Lipton, Dove, Surf, Clear, Magnum, Knorr, Sunsilk, Creamsilk, Rexona, Vaseline, Lux, Axe, Lifebuoy, and many more. Over 2.5 billion people use Unilever products every day. It is one of the top UK100 stocks chosen by long term investors.
5. Diageo (DGE)
Diageo is a British beverage alcohol company, one of the world's largest producers of spirits and beers. They have a wonderful collection of over 200 brands, including the famous J&B, Johnnie Walker, Black & White, Smirnoff, Baileys, Guinness, and many more.
6. GlaxoSmithKline (GSK)
GlaxoSmithKline is one of the largest pharmaceutical companies in the world. The company is headquartered in London, England. GSK has over £90 billion market cap. The global healthcare company has a wide portfolio of innovative medicines in respiratory, HIV, immuno-inflammation, and oncology.
7. BP (British Petroleum)
British Petroleum (BP) is one of the Big Seven oil and gas companies in the world. They operate in Europe, North and South America, Australia, Asia, and Africa. BP has more than 70,100 employees. The oil giant has over £76 billion market cap.
8. British American Tobacco (BATS)
British American Tobacco company was established in 1902 in London. It manufactures and sells cigarettes and tobacco products. Their popular brands include Dunhill, Lucky Strike, Kent, and Pall Mall.
9. Rio Tinto Group (RIO)
Rio Tinto Group has offices in London and Melbourne. The company is the world's second-largest metals and mining corporation, producing iron ore, aluminum, copper, diamonds, gold, and uranium.
10. Glencore (GLEN)
Glencore is a well-known commodity trading and mining company. The Anglo-Swiss company produces more than 60 commodities through approximately 150 assets and operates in more than 35 countries.
11. Anglo American (AAL)
Anglo American is the world's largest producer of platinum and has operations on all five continents. The company is also a significant producer of diamonds, copper, nickel, iron ore, and coal. It was established in Johannesburg, South Africa, and is also based in London, UK.
12. RELX (REL)
RELX is a global provider of information-based analytics and decision tools for professionals. RELX shares are also available to trade on the London, Amsterdam, and New York Stock Exchange.
13. Reckitt Benckiser Group (RKT)
Reckitt Benckiser Group is a global consumer goods company based in England and the Netherlands. They produce trusted brands like Clearasil, Enfa, Gaviscon, Lysol, Strepsils, Varnish, Veet, and many popular names.
14. National Grid (NG.)
National Grid is a British electricity and gas utility company with a subsidiary in the North-Eastern United States. In the US, they serve the energy needs of more than 20 million people in New York, Rhode Island, and Massachusetts. In the UK, it operates the National Grid, a high-voltage electric power transmission network that connects major power stations.
15. London Stock Exchange Group (LSEG)
London Stock Exchange Group is a global financial market infrastructure company. It owns the London Stock Exchange, one of the world's oldest stock exchanges. LSEG also operates the popular FTSE Russell Indices.
16. Vodafone (VOD)
Vodafone is a giant telecommunications company in London, United Kingdom. It is one of the biggest telecom companies in the world. In May 2021, Vodafone had more than 300 million mobile customers, 23 million fixed broadband subscribers, and 22 million TV customers.
17. Lloyd's Banking Group (LLOY)
Lloyd's Banking Group is a massive British financial institution. This banking empire owns famous brands including the Lloyds Bank, The Bank of Scotland, Scottish Widows, and Halifax.
18. Compass Group (CPG)
Compass Group is the world's largest contract food-service company. They operate in 45 countries and serve over 5.5 billion meals per year. Some of their clients include Google, Coca-Cola, Intel, Boeing, Microsoft, HSBC, Nike, and many more huge corporations.
19. Prudential (PRU)
Prudential is a life and financial services provider company founded in 1848 in London, England. It has a long history of helping people live better by managing and growing their savings and investments.
20. Experian (EXPN)
Experian is an Irish firm and one of the world's leading global information services companies. They provide consumer and business credit reporting, analytical, and marketing solutions. The company has over £25 billion market capitalization.
21. Barclays (BARC)
Barclays is a global investment bank and financial services company. It was established in 1690 in London, making it one of the oldest banks in the world. Built over centuries, that is an extraordinary achievement. Their businesses include consumer banking and payments operations, as well as a top-tier, full service, global corporate and investment bank.
22. CRH (CRH)
CRH is an Irish company that manufactures and distributes a diverse range of superior building materials and construction products. The giant construction firm operates in over 30 countries across the globe.
23. BAE Systems (BA.)
BAE Systems is a global defense, security, and aerospace company, headquartered in London, United Kingdom. They have a wide range of products and services that covers air, land, and naval forces, as well as advanced electronics, security, information technology, and support solutions.
24. NatWest Group (NWG)
NatWest Group is a banking and financial services company in the United Kingdom. Their brands include NatWest, The Royal Bank of Scotland, Ulster Bank, Coutts, Child & Co., Drummonds, and Holt's Military Banking. Their history of banking goes back for hundreds of years.
25. Ferguson (FERG)
Ferguson is one of the world's leading specialist distributors of plumbing and heating products, with over 1 million customers served by 35,000 associates in 2,280 locations across the North America and the United Kingdom.
26. Tesco (TSCO)
Tesco is among the biggest grocery retailers in the world. Last 2021, Tesco achieved £53 billion in group sales. The company operates in the United Kingdom, Central Europe, and Asia. Currently, it has over £20 billion market capitalization.
27. SSE (SSE)
SSE is a British energy company and a leading generator of renewable electricity in the United Kingdom and Ireland and one of the largest electricity network companies in the UK.
28. Ashtead Group (AHT)
Ashtead Group is a British industrial equipment rental company. With over £18 billion market capitalization, Ashtead Group is among the top 100 companies on the London Stock Exchange.
29. BT Group (BT.A)
BT Group is the largest provider of consumer-fixed line voice and broadband in the United Kingdom. They also serve in 180 countries across the world.
30. Standard Chartered (STAN)
Standard Chartered is a British company providing banking and financial services with over 160 years in banking business. The company has presence in 59 countries and territories in Europe, Americas, Asia, the Middle East, and Africa.
31. SEGRO (SGRO)
SEGRO is a notable Real Estate Investment Trust (REIT) in the United Kingdom. It is a leading owner, developer, and asset manager of modern warehouses and industrial properties. SEGRO's properties are strategically located across major cities in Europe.
32. Aviva (AV.)
Aviva is a famous British insurance company with over 31 million customers across Europe, North America, and Asia. It is the largest general insurer in the United Kingdom. Aviva's heritage dates back to 1696. It is now among the constituents of the FTSE 100 index.
33. Imperial Brands (IMB)
Imperial Brands is a British global consumer-focused company and the fourth largest international tobacco company. Their famous brands include Winston, Davidoff, West, Backwoods, Dutch Masters, Blu, Pulze and many more.
34. Antofagasta (ANTO)
Antofagasta is a Chile-based copper mining company with interests in transport. This company has over £15 billion market cap.
35. Legal & General Group (LGEN)
Legal & General Group is a financial and insurance company in the United Kingdom. It is the UK's largest provider of individual life insurance products and the biggest manager of corporate pension schemes.
Who Should Invest in UK100 Index companies?
1. Those who want to invest with British brands
UK 100 index is a basket of 100 most prominent companies from the United Kingdom like Unilever, HSBC, GlaxoSmithKline, Shell, Vodafone, Lloyd's, Barclays, Tesco, Burberry, Rolls-Royce, IAG (International Consolidated Airlines Group), and many more. If you want to have exposure to UK stocks, this index suits your portfolio.
2. Long term Investors
The FTSE 100 is one of the world's leading indices, and it is composed of well-established, resilient, and highly regulated companies in the United Kingdom.
The 100 components of UK 100 index are selected carefully, and the allocation spans around different industries – technology, financial services, pharmaceuticals and biotechnology, automobiles, oil and gas, utilities, insurance, retail, media, travel, telecommunications, retail, and health care.
The index is created for growth. If you're looking at the UK100 chart, it is driving the uptrend direction amidst market crashes and corrections. Thus, investors who want a long-term growth portfolio with minimal risk select an index like the UK100.
3. Active traders
UK100 index is one of the most actively traded indexes in the world. Likewise, many of its constituents are among the most traded stocks. If you are an active trader whose time zone is compatible with the London Stock Exchange trading hours, you can find a lot of opportunities here.
4. Those who want to diversify with UK stocks
Diversification helps investors to minimize risks and losses because their funds are distributed to different stocks from different business sectors. For instance, when there is a downtrend in the tech sector, your entire equity will not hurt so much because your money is invested across different industries.
How to Trade Proportional Shares of UK100 Index?
Not everyone could afford to buy one share of the UK100 index because it's currently over £7,500 per share. Fortunately, we can invest proportional shares for as low as $1,000 (for non-leveraged CFD trades) using an online broker that offers like eToro.
Similarly, we can invest proportional shares of UK stocks for as low as $10. It is very convenient and affordable to allocate our investment funds across different stocks.
67% of retail investor accounts lose money when trading CFDs with a provider like etoro. You should consider whether you can afford to take the high risk of losing your money.
Best ETFs that Track the UK100 Index:
iShares Core FTSE 100 UCITS ETF
Vanguard FTSE 100 UCITS ETF
HSBC FTSE 100 UCITS ETF
World's Top Indices:
Disclaimer: This content is for information purposes only and should never be considered as professional advice. Every investor has a different risk tolerance and goal. Always do your own research or hire an expert before investing in any asset. All investments have risks. Risk only the money you're not afraid to lose.