Are you applying for a visa to travel to Europe, Japan, Australia, Canada or any other country?
Well if you are a travel junkie like me, I always make time to request stock investment certificates to add supporting documents for my visa applications. Why?
Because stock investments and equity mutual funds are one of the evidences of financial capacity and strong tie to our country.
I attached my stock investment certificate for my United Kingdom tourist visa and Japan tourist visa application recently and I surprisingly got a Multiple Entry visa for UK and 5-Year Multiple Entry visa for Japan.
I was surprised because it was my first time getting those visas and they were very kind to give me multiple entry yay!
I think it helped my application to be approved somehow. Now I am sharing here that tip no matter how much your portfolio is worth.
For the UK tourist visa, there is even a field on the application form you need to fill out that asks "Do you have savings, properties or other income, for example from stocks and shares?" and a field for your Total Monthly Income from Stocks and Shares.
So for those who are wondering about how to request stock certificate for visa application at COL Financial, this post if for you.
Note that the document is a certification that proves latest stock positions and their value.
I am sharing here about requesting one for tourist visa application purpose only.
How to Request Stock Certificate at COL Financial for Visa Application
Log in to your COL Financial account
On the dashboard, select the Service Inquiry tab on the blue menu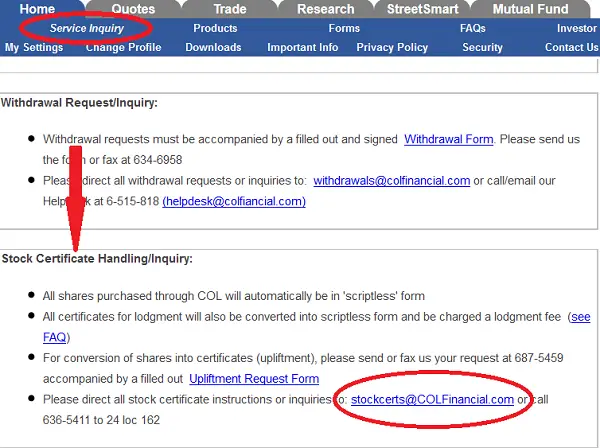 Go to the bottom part that says: Stock Certificate/Inquiry. Since our purpose is to request stock certificate for visa application, we have to email stockcerts@COLFinancial.com.
Email stockcerts@COLFinancial.com and tell them you are requesting a certification for your visa application. COL Financial will then reply about your request and will send you a form you need to fill out and sign.
Fill out that form and send it back to the email. The form looks like this: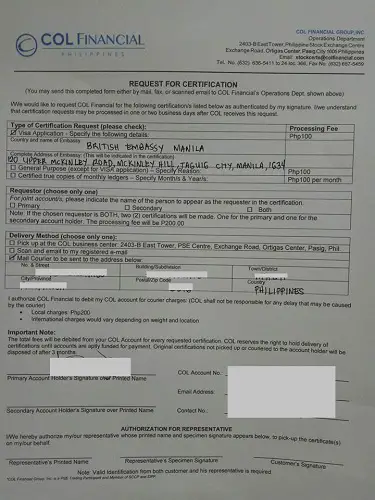 After receiving your signed form, COL Financial will then deduct some fees associated with your certification request.
If you opted for courier delivery, the certificate will be delivered the next day if you are in Manila or nearby provinces. If you live farther, it may take 2-3 days.
Stock Investment Certification for Visa Application
The certificate looks like this one below. It simply shows the embassy your latest stock and equity portfolio and their market value.
It is not the stock certificate per company that you are a shareholder with.
The document I am referring here is the single piece of paper that summarizes your stock and equity portfolio and cash position with the stock broker.
Now you got my drift.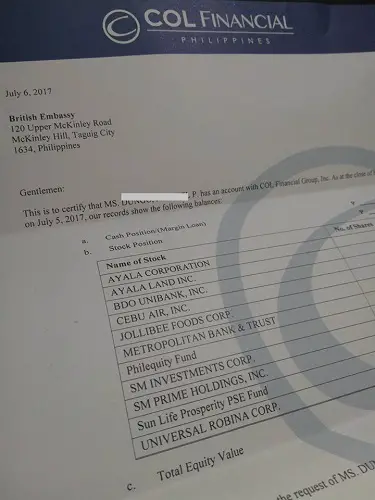 Stocks are paper assets, they make part of your net worth so they provide additional proof of your financial capacity and financial status.
If you have shares of stocks on some companies in the Philippines, it also shows ties to this country.
It's like saying, "oh this person has stocks investments from companies in the Philippines, she definitely has reasons to return home after her trip abroad." Hence, it has benefits for tourist visa application.
Stay updated! SUBSCRIBE FOR FREE to receive our latest posts on your email. And connect with us on Facebook 🙂