I'm in awe of this new stock trading platform.
For years, I have been wanting for a trading platform that could give me all the tools, the numbers I watch out for, multiple company snapshots, valuations, real-time news, professional research – on the same screen.
I've been using different platforms in trading stocks because they are different in every way.
But I would often check out Bloomberg and Wall Street Journal to dig deeper about things like historical performance, income and loss, valuations, consensus.
I used to do that because I couldn't find enough financial statistics I was looking for. Sometimes the window would freeze on me and I needed to log back in.
I'm glad there is now a cutting-edge stock trading system that serves everything in one platform. I need that and it's one of my requirements about trading in the stock market.
Metrobank has launched the most advanced online stock trading platform in the Philippines, First Metro Sec Pro. I gotta say you must have it if you're into investing and trading stocks and mutual funds.
Having access to it means having access to the most advanced OS of online trading."
On this page, I'm sharing my review of using First Metro Sec Pro.
Currently, it is exclusive to most valued clients who trade at least 100K per month or maintain a portfolio worth at least 200K in stocks or mutual funds.
First Metro Sec Pro Review
Amazing Interface
Active traders or passive investors can both take advantage of the incredible interface of First Metro Sec Pro as it is empowered with blazing fast system.
The ability to multitask is what I admire the most in this trading platform.
I can view several reports next to each other like viewing different stocks live feed and my portfolio at the same time. Did I say in one dashboard?
Multiple Watchlists
Yup, one of my favorite features of this trading platform is easy creation of multiple watchlists.
You can create and group different watchlists according to your wish and navigate them with ease while viewing their Market Pressure in real time.
On another tab, you can view the Index's most active, biggest losers, top gainers and browse further at each stock as the center dashboard displays charts, figures and actionable tabs at your fingertips.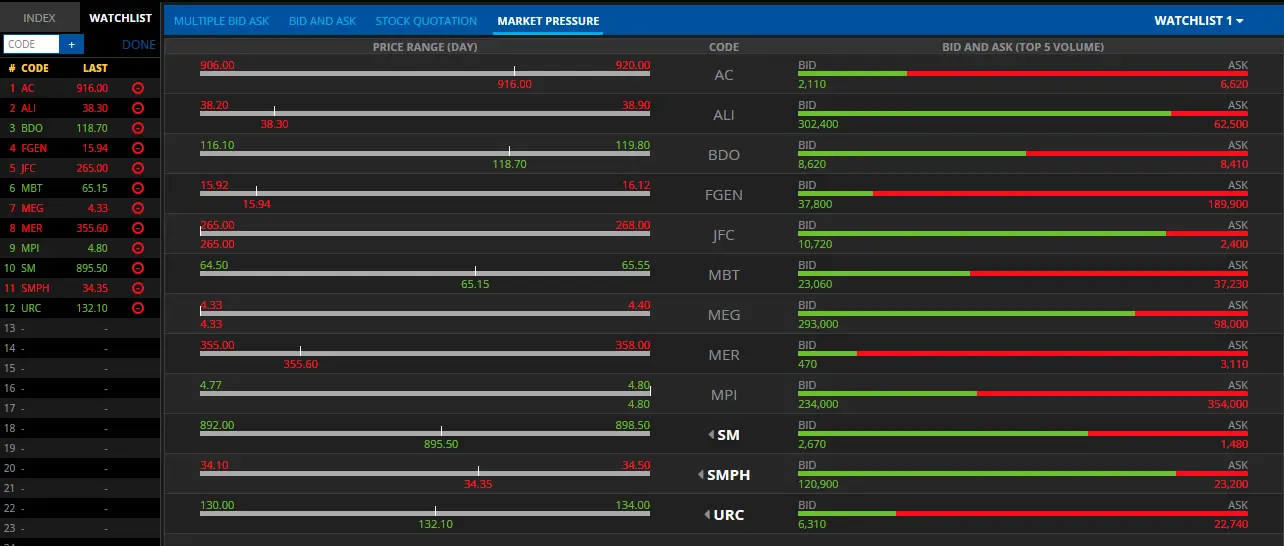 Blazing Fast Tools
I'd say it again, First Metro Sec Pro is blazing fast. I think it is designed this way.
Everything is effortlessly quick. So far, I have never experienced any frozen window, error or any glitch at all using this online trading platform.
Catchy Infographics
First Metro Sec Pro's simple infographics are very catchy. In my personal experience, they help a lot with analyzing figures easily.
I'm a fan of infographics because they sum up the reports better than Excel data or PDF snapshots.
First Metro Sec Pro displays user-friendly infographics and thank God we don't have to download them.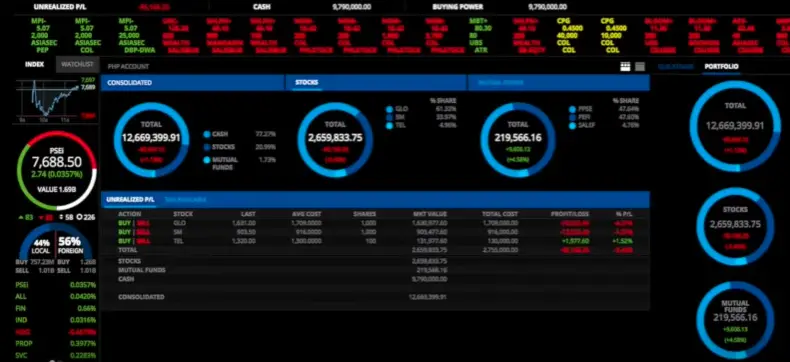 Market News in Real Time
Being able to view the latest news about each stock or the market is quite impressive. I can even see the latest Tweets from First Metro Sec.
Using this online trading program, I like reading economic trends after viewing market indices next to each other.
Excellent Research
As a First Metro Sec client, we have the advantage to be given excellent market research by financial professionals.
I am thankful that their market research includes not only the latest figures but the past reports as well.
My cousin had a take home assignment and she needed the EPS (Earnings Per Shares) of various companies in the PSE from 2014 to 2019. She couldn't find it anywhere online.
I helped her, and we checked them out on Bloomberg, WSJ, and some other trading platforms. Unfortunately, those data in the past were not displayed.
We even checked at PSE Edge but we got lost. Luckily, I found them at First Metro Sec. Her professor was very impressed.
Seamless Trading
First Metro Sec Pro is by far the most advanced online stock trading platform in the Philippines. Everything you need is served on the screen as quickly as possible.
You can monitor, analyze, and trade stocks and mutual funds conveniently.
You can also customize the look of your dashboard like choosing from available theme colors, sidebar, ticker and portfolio options.
Every feature is easy to navigate.

Consolidated Portfolio
At one look, you would easily know what compose your portfolio because of the beautiful infographics.
Using First Metro Sec Pro, you can both trade stocks and mutual funds. Thus, you can view the consolidated amount of your investments.
Having the pleasure of viewing your portfolio on the side while you explore other things like analyzing different stocks inside the dashboard and an easy view of PSEI performance at the left sidebar is amazing.
First Metro Sec Pro Review – Most Advanced Trading Platform
To sum up, what I love most about this stock trading platform are the following:
Amazing Interface
Multiple Watchlists
Blazing Fast Tools
Catchy Infographics
Market News in Real Time
Excellent Research
Seamless Trading
Consolidated Portfolio
Special thanks to Ms. Abegael Iselle Go of First Metro Securities for inviting me and for giving me the privilege to use this awesome platform in trading stocks and mutual funds.