Here are the best tech stocks to invest in 2022. Investors like investing and trading tech stocks because of their growth potential. Many of the most successful companies in the world are also tech companies.
Why should you invest in tech stocks?
Many investors are attracted to trade tech stocks because of their ability to skyrocket in value. Those big gainers and millionaires on Wall Street invested in tech companies over the last decade.
One of the best performing indices globally, NASDAQ 100, is also composed of tech stocks. The world continues to innovate, and technology is an essential factor in how we will thrive in the future.
Risks of Investing Tech Stocks
While tech stocks can produce profitable returns, they can also be extremely volatile than other sectors in the stock market. Their stocks could surge in a day then plunge when you least expect it.
Tech companies must continue to upgrade and invent new state-of-the-art platforms to stay in a highly competitive and innovative world.
It is also important to consider the financial stability of a tech company before investing. Is it making a consistent profit? Does it have a strong balance sheet? Get to know its major clients, company guidance, target projects, and future ventures.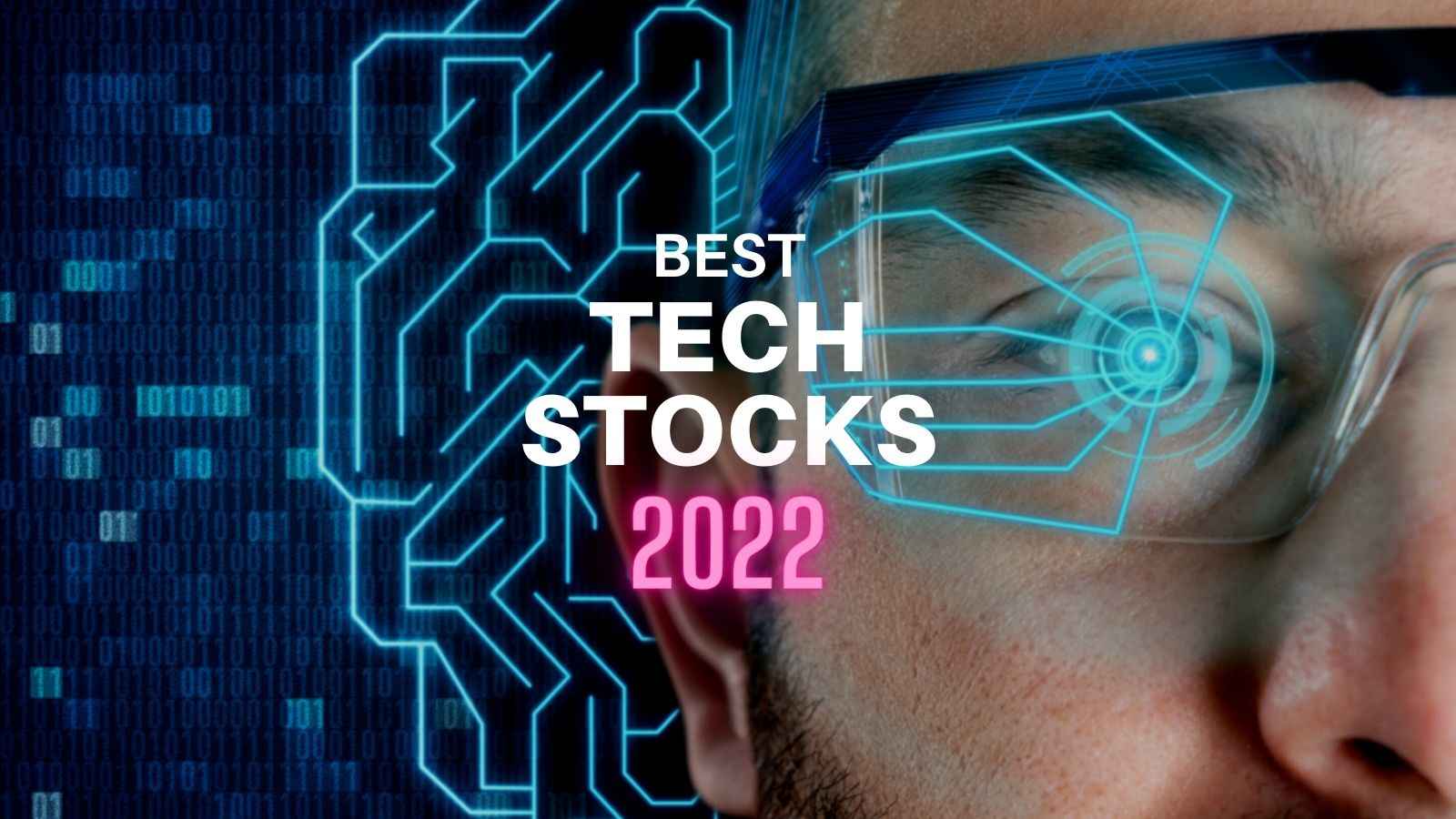 Best Tech Stocks to Invest in 2022
1. Shopify (SHOP)
Shopify is a cloud-based global e-commerce platform to start, run, and grow a business. We listed the Canadian company as our number 1 tech stock pick for 2022. It currently powers more than 1 million businesses worldwide. It's the second-largest eCommerce platform in the United States by sales volume.
Why invest in Shopify stock in 2022?
We like Shopify's strong balance sheet, and it has a recurring revenue business model. Shopify is the second biggest retail eCommerce platform next to Amazon. It has a larger share than Walmart.
Entrepreneurs and large brands use Shopify to sell online. Shopify's Total Addressable Market is around $153 billion. The more businesses use their platform, the more subscription revenue it will collect.
Shopify's stock price has reached 1,688 in 2021 and is back to its 1,392 price range. It's favorable to invest while still below its all-time high level. Besides, we like this stock for long term, too, so we're holding some shares until 2030.
2. Snowflake (SNOW)
Snowflake is a cloud-based data platform, analytics, SaaS, and software company. Last September 2021, Snowflake broke the record and became the biggest software company to IPO in the US. Its value doubled on its opening day, reaching nearly $75 billion market cap.
Why invest in Snowflake stock in 2022?
Snowflake is among the top tech stocks we would like to watch in 2022 because its data cloud business is servicing more than 5,400 customers, including 148 firms paying more than $1 million.
If Warren Buffett's Berkshire Hathaway invested a massive stake in Snowflake, we'd like to invest in SNOW, too, especially when the stock has corrected below 400. Snowflake's current price is not cheap, in my opinion, but there is an opportunity at its current 344 price level.
3. Tesla (TSLA)
Tesla is the king of the EV market. It is one of the best performing US tech stocks. They have very sophisticated technology to create the best electric cars globally. Besides, Tesla has a goal to accelerate the world's transition to sustainable energy.
Why invest in Tesla stock in 2022?
As of this writing, the 1-Year Return of Tesla stock is 64%. We're confident that TSLA stock will continue to grow and maintain its trillion-market capitalization. Tesla is both listed on the S&P 500 and NASDAQ 100. Hence, it attracts more investors and investment funds alike.
Yes, we know that Tesla stock is super expensive right now, but we firmly believe that the future of EV, sustainable energy, and Tesla will continue to flourish. So, we think that Tesla is still one of the best tech stocks to invest in right now. We're excited to see its growth in 5 years or 10 years from now.
MUST READ: "Is it too late to invest in Tesla after the stock split?"
4. Atlassian (TEAM)
Another technology stock we like to watch in 2022 is Atlassian (TEAM). Atlassian is an Australian software company focused on helping teams around the world collaborate efficiently.
Why invest in Atlassian stock in 2022?
Atlassian expects its subscription and cloud revenue growth rate to accelerate in FY2022. Their total addressable opportunity is $24 billion and growing. Shares of Atlassian surged in high valuations, so there is a lot of risks and opportunities.
The company also expects declines in its gross and operating margins in FY2022. Nonetheless, their business is already well-positioned in the software, IT service management, and general work management markets.
5. NVIDIA (NVDA)
NVIDIA is one of the world's top inventors of high-tech Graphical Processing (GPU). They have business interests in gaming, professional visualization, data center, and automotive.
Why invest in NVIDIA stock in 2022?
NVIDIA's technology put a massive advantage in the Metaverse because NVIDIA developed Omniverse, the building blocks of Metaverse. The company has impressive Net Income with Compound Annual Growth Rates (TTM) of 114% (YoY), 20% (3Y), and 46% (5Y). It also pays dividends regularly.
It's no secret that it's one of our favorite stocks to invest in 2022 for its innovative contributions to the world. We believe that NVIDIA will continue its strong growth, and we think it will reach its trillion market cap soon, so we're investing in NVDA stocks for long term. Of course, we take more chances of buying more when the stock dips below 300.
MUST READ: "Top 8 Reasons Why You Should Invest in NVIDIA Stock"
6. Booking Holdings (BKNG)
Booking Holdings is the world's leading online travel technology company providing travel-related services. It owns popular platforms including Booking.com, Priceline, Agoda, Kayak, RentalCars.com, Momondo, Cheapflights, OpenTable, and other travel-related booking engines.
Why invest in Booking stock in 2022?
The travel sector was impacted negatively in the past couple of years. Now could be a good time when the industry would make up for its losses. Booking Holdings has an advantage when travel returns around the world because it runs and manages major travel booking platforms on the internet.
While the travel sector is still too vulnerable for virus variant news, BKNG stock could still be too volatile. So, investors must always be cautious and must avoid applying much leverage for any trade position.
7. Adobe Systems (ADBE)
Adobe is a popular software company that develops multimedia and creativity software products, including Photoshop, Acrobat Reader, and Adobe Creative Cloud. The company has over 270 billion market cap.
Why invest in Adobe stock in 2022?
Adobe is among the largest and most diversified software companies in the world today. It always beats or is in line with market expectations and has a sound balance sheet. Adobe reported $15.79 billion in revenue in its FY2021 and generated $7.23 billion cash flows from operations.
The company's 2024 TAM (Total Addressable Market) is $205 billion. It comes from its Creative Cloud TAM of $63 billion, Document Cloud TAM of $32 billion, and Experience Cloud TAM of $110 billion.
It's attractive to buy shares now while the price is within its 200 Moving Average. Anyhow, Adobe is an excellent blue-chip company to hold for long term.
8. DocuSign (DOCU)
DocuSign is the world's number 1 eSignature and Agreement Cloud provider. DocuSign Agreement Cloud technology enables customers to electronically sign documents from any device and location at any time.
Why invest in DocuSign stock in 2022?
18 of the top global pharmaceutical companies, 10 of the top global financial companies, and 7 of the top tech companies use DocuSign. The company has over one billion users worldwide; more than one million are paying customers.
Paperless transaction is growing. Although DocuSign has substantial growth in billings and revenue, increasing customer base, and improving profitability and cash flow, it is not yet profitable.
However, its clients' consistent growth and revenue make this company suitable to invest for long-term stockholders. Dollar-cost-averaging will work as a strategy.
9. Trade Desk (TTD)
Trade Desk is a media-buying platform built for the open internet. It empowers ad buyers and enables companies to achieve ad campaigns.
If you invested in Trade Desk stock three years ago, you would have a profit of 728%. Price return for five years is 3,227%.
Why invest in Trade Desk stock in 2022?
Trade Desk shares surged as high as 111 in November. You'd gain around 19% when you trade the current price of 92.60. We like trading this stock, both long and short term. According to Simply Wall Street, earnings of Trade Desk are forecast to grow 27.70% per year.
10. Amazon (AMZN)
Amazon is a giant retail internet and cloud services company. It's among the largest companies in the US in terms of revenue and market capitalization. AMZN currently has more than 1 trillion market cap.
Why invest in Amazon stock in 2022?
Amazon is one of our best tech stocks to invest in 2022 and one of our best stocks to hold for a long time. It's the number one e-Commerce platform in America. Its cloud computing business (AWS) is also a cash machine; it generated $13 billion in operating income in 2020.
We see a lot of opportunities with Amazon stock as the company gave disappointing fourth-quarter guidance. It caused the stock price to slide down, giving investors attractive entries. The average target price by analysts is 4,127. That could provide a profit of 21% when you bought at 3,384.
11. Block Inc. (SQ)
Block Inc. (formerly Square Inc.) is an online payments company that offers point-of-sale solutions, analytics, and reporting tools for any kind of business (big or small).
Square's two important platforms include the Seller Ecosystem and Cash App. They provide fast and secure technology to accept every kind of payment (in person or online).
Why invest in SQ stock in 2022?
This fintech company continues to invent a unique ecosystem of products and services. Because of that strategy, their customers are growing. And so are their recurring income. Their seller ecosystem represents more than $85 billion opportunities in the US alone.
12. Apple (AAPL)
Apple is one of the most popular technology brands in the world. Its inventions include the Macintosh, iPhone, iPad, Apple TV, iOS, and many more. It is the first US tech company that reached the trillion-market cap (now it has more than 2 trillion).
Why invest in Apple stock in 2022?
Apple stock is listed on the Big 3 US indices – S&P 500, NASDAQ 100, and Dow Jones 30. It is one of the most innovative companies in the world. It is planning its electric car project by 2024. Will it be iCar?
Since AAPL is one of the most traded stocks on the market, it will always provide traders and investors numerous chances to long or short the stock whenever the status of the market goes with or against their favor.
13. Microsoft (MSFT)
Microsoft is a computer software, cloud, and Artificial Intelligence company. The company co-founded by Bill Gates now has a 2.5 trillion market cap. Its business segments include Skype, LinkedIn, GitHub, and Xbox Game Studios.
Why invest in Microsoft stock in 2022?
Microsoft is one of the best tech stocks that reward dividends to their shareholders. It reported revenue of 168 billion, and operating income grew 32% to 70 billion in its fiscal year 2021. We like investing in stable companies like Microsoft. We think it will remain a powerhouse in the tech industry.
MUST READ: "Top 5 Reasons Why You Should Invest in Microsoft Stocks"
14. Salesforce.com (CRM)
Salesforce is the world's number 1 cloud-based Customer Relationship Management (CRM) platform by revenue. More than 150,000 companies across the globe use Salesforce CRM, including Unilever and T-Mobile.
Why invest in Salesforce stock in 2022?
The giant CRM company raised its Fiscal Year 2022 revenue guidance to a range of $26.25 billion to $26.35 billion. It also initiated its Fiscal Year 2023 revenue guidance of $31.65 billion to $31.80 billion.
Simply Wall Street considers the stock trading below their estimated fair value of $288.21. Salesforce earnings are forecast to grow 21% per year. We always see upside potential with CRM stock.
15. Autodesk (ADSK)
Autodesk is a global leader and maker of software for architecture, engineering, construction, media, and entertainment. Their products include AutoCAD, BIM 360, Civil 3D, Fusion 360, Inventor, InfraWorks, Maya, Revit, PlanGrid, and many more.
Why invest in Autodesk stock in 2022?
The company executed $2 billion billings on the first half of its fiscal year 2022, an increase of 19% YY. Autodesk's goals for 2023 are impressive and inspiring. They aim for $2.4 billion in free cash flow for the fiscal year 2023.
16. Advanced Micro Devices (AMD)
AMD creates high-performance computing, graphics, and visualization technologies. It's always one of the best-performing chipmaker stocks. The company has over $179 billion market cap. AMD is a competitor of Intel and NVIDIA.
Why invest in AMD stock in 2022?
AMD's investor presentation is inspiring. They focus on the next five years of journey and leadership in large and growing markets with a $79 billion Total Addressable Market (TAM). AMD continues to expand growth in the data center, personal computing, and gaming sectors.
Earnings are forecast to grow 15.78% per year. We like to watch AMD stock closely, especially in 2022. There is room for an 8% gain when invested at its current price of 148.
17. Meta Platforms (FB)
Facebook changed its brand to Meta Platforms in 2021. Mark Zuckerberg explained that the tech giant will now refocus on the next chapter of the internet, the "Metaverse." Meta Platform owns Facebook, Messenger, Instagram, WhatsApp, Oculus, Workplace, Portal, and Novi.
Why invest FB stock in 2022?
Meta Platforms will be relevant in the Metaverse, and it still owns the biggest apps in the world – Facebook with 1.9 billion daily active users, Instagram with more than 2 billion monthly active users, Messenger with 1.3 billion monthly active users, and WhatsApp with 2 billion monthly active users.
Other Stock Picks:
Disclaimer: This article is for information purposes and should not be considered professional investment advice. It contains some forward-looking statements that should not be taken as indicators of future performance. Every investor has a different risk profile and goals. All investments have risks. Always do your own research or hire an expert before investing and trading in the stock market.