Every person's dream probably includes going to Paris, but every stock market investor's goal is outperforming a stock market index like France 40, also known as CAC 40 index.
We are sharing with you the most significant companies listed on Euronext Paris. If you want to invest in French or European companies or benchmark the French stock market index, you should know the updated list of CAC 40 (Fra40).
What is CAC 40 Index?
CAC 40 index is a stock market index launched in 1987, representing a free-float market-cap-weighted index of the top 40 largest and most actively traded stocks listed on Euronext Paris. CAC got its name from the Paris Bourse's early automation system Cotation Assistée en Continu (Continuous Assisted Quotation).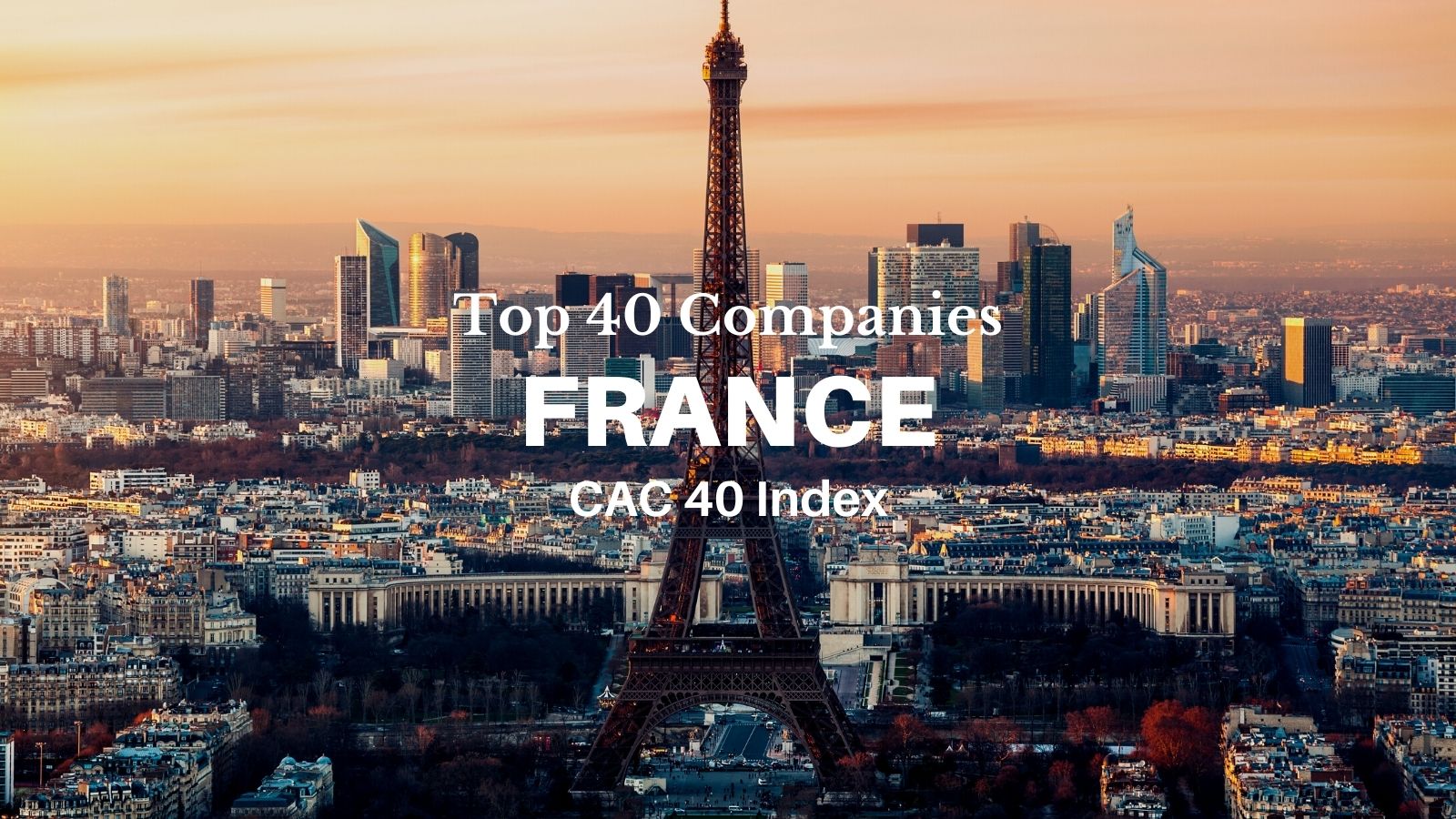 List of CAC 40 Companies in 2023
Like many other stock market indices, CAC 40 goes thru portfolio re-balancing, and its stock composition is reviewed and screened every quarter. Here is the updated list of companies of the CAC 40 index (France 40) as of April 6, 2023.
Air Liquide
Airbus
Alstom
ArcelorMittal
AXA
BNP Paribas
Bouygues
Capgemini
Carrefour
Credit Agricole
Danone
Dassault Systemes
Engie
EssilorLuxottica
Eurofins Scientific
Hermes International
Kering
L'Oreal
Legrand
LVMH Moët Hennessy Louis Vuitton
Michelin
Orange
Pernod Ricard
Publicis Groupe
Renault
Safran
Saint Gobain
Sanofi
Schneider Electric
Societe Generale
Stellantis
STMicroelectronics
Teleperformance
Thales
TotalEnergies
Unibail-Rodamco-Westfield
Veolia Environnement
VINCI
Vivendi
Worldline
The updated list of CAC 40 components is also available at Euronext.
Benefits of Investing in CAC 40 Index
1. Diversification
One of the benefits of investing in the CAC 40 index is diversification because your fund will be invested in 40 excellent companies. These 40 companies span around different industries like pharmaceuticals, clothing, banks, aerospace, food, construction, technology, automobile, and many more.
2. Minimize Risk
Investing in different sectors can also minimize risk. For instance, if one industry did not perform well, you won't be losing so much because you are still invested in other sectors that could perform better and could increase your revenue.
3. Excellent Management
Like many stock market indices, the components of CAC 40 are screened periodically to ensure they meet their requirements of the index and provide liquidity. From the top 100 companies, the committee chooses the best 40 most relevant and most suited to their portfolio standards.
4. Big Privilege
Investing in Fra40 companies is also an immense privilege because most of its components are known in Europe and the rest of the world. CAC 40 is a house of famous brands like Airbus, Hermes, AXA, L'Oreal, Sanofi, Total, and LVMH (Moët Hennessy Louis Vuitton).
How to Invest in CAC 40 Index (France 40)
There are three ways to invest and trade French stocks and the CAC 40 index. Both local and international investors can do any of these three methods:
1. By investing CAC 40 ETFs
You can invest in an Exchange Traded Fund (ETF) that tracks the composition or performance of the CAC 40. Some of the most popular CAC 40 ETFs include Lyxor CAC 40 ETF, Amundi CAC 40 ETF, and HSBC CAC 40 ETF.
2. By CFD Trading
International investors can also take advantage of CFD trading. Online brokers like eToro offer CFD (Contract for Difference) trading. If you don't live in Europe, using a CFD broker will make it possible for you to trade European stocks just like those listed on CAC 40 or Fra40. There are also numerous ETF available to trade from CFD brokers.
67% of retail investor accounts lose money when trading CFDs with a provider like eToro. You should consider whether you can afford to take the high risk of losing your money.
3. By investing the best blue-chip stocks on the Euronext stock exchange
Another method to invest in the CAC 40 index or French stocks is by investing directly on the Euronext stock exchange. You must be eligible to open an account. You can then buy shares of your selected blue-chip company from the CAC 40 index.
Top Stock Market Indices:
Disclaimer: This article is for information purposes only and should never be considered as professional advice. Every investor has a different risk profile and goal. All investments have risks. Always do your own research or hire an expert before investing in the stock market.