We're sharing here the top companies of the China 50 index (SSE 50 Index) in terms of market capitalization. If you are among the traders and investors interested in the most dominant stocks on Shanghai Stock Exchange, this page is for you.
China is the world's most populated country and the second biggest economy in terms of nominal GDP. The IMF (International Monetary Fund) forecasts China to grow 5.2% in 2023.
Digital technology, manufacturing, services, and agriculture contribute to the remarkable growth of China. The Chinese stock market has an impact on the Asian market and the rest of the world.
What is China 50 Index?
China 50 Index is also known as SSE 50 Index because it represents the 50 largest and most liquid A-share stocks listed on Shanghai Stock Exchange. SSE 50 is often used as an indicator of the overall performance of Shanghai, China's most influential and prominent stocks.
Top 50 Companies of China 50 Index (SSE 50 Stocks)
The following are the largest listed companies in China 50 index. It will help you guide your trading strategy to benchmark the result of the index or beat other index funds and equities. The index undergoes periodic calculation in compliance with SSE 50 index methodology. The components of China50 index as of April 11, 2023 are:
Inner Mongolia BaoTou Steel Union Co.
China Petroleum & Chemical Corp.
CITIC Securities Company
SANY Heavy Industry Co.
China Merchants Bank Co.
Poly Developments and Holdings Group Co.
SAIC Motor Corp.
China Northern Rare Earth (Group) High-Tech Co.
Shanghai Fosun Pharmaceutical (Group) Co.
Jiangsu Hengrui Pharmaceuticals Co.
Wanhua Chemical Group Co.
Hengli Petrochemical Co.
NARI Technology Co.
Zhangzhou Pientzehuang Pharmaceutical Co.
Tongwei Co.
Kweichow Moutai Co.
Anhui Conch Cement Company
Haier Smart Home Co.
Wingtech Technology Co.
Shanxi Xinghuacun Fen Wine Factory Co.
Inner Mongolia Yili Industrial Group
AECC Aviation Power Co.
China Yangtze Power Co.
China Three Gorges Renewables (Group) Co.
LONGi Green Energy Technology Co.
China Securities Co.
China Shenhua Energy Co.
Industrial Bank Co.
Shaanxi Coal Industry Co.
Agricultural Bank of China
Ping An Insurance (Group) Company of China
Industrial and Commercial Bank of China
China Pacific Insurance Group
China Life Insurance Co.
Great Wall Motor Company
China State Construction Engineering Corp.
Power Construction Corporation of China (Powerchina Ltd.)
Huatai Securities Co.
PetroChina Company
China Tourism Group Duty Free Corp.
Zijin Mining Group Co.
Cosco Shipping Holdings Co.
China International Capital Corp.
WuXi Apptec Company
Hoshine Silicon Industry Co.
Foshan Haitian Flavouring and Food Company
Will Semiconductor Co.
Zhejiang Huayou Cobalt Co.
GigaDevice Semiconductor (Beijing) Inc.
Trina Solar Co.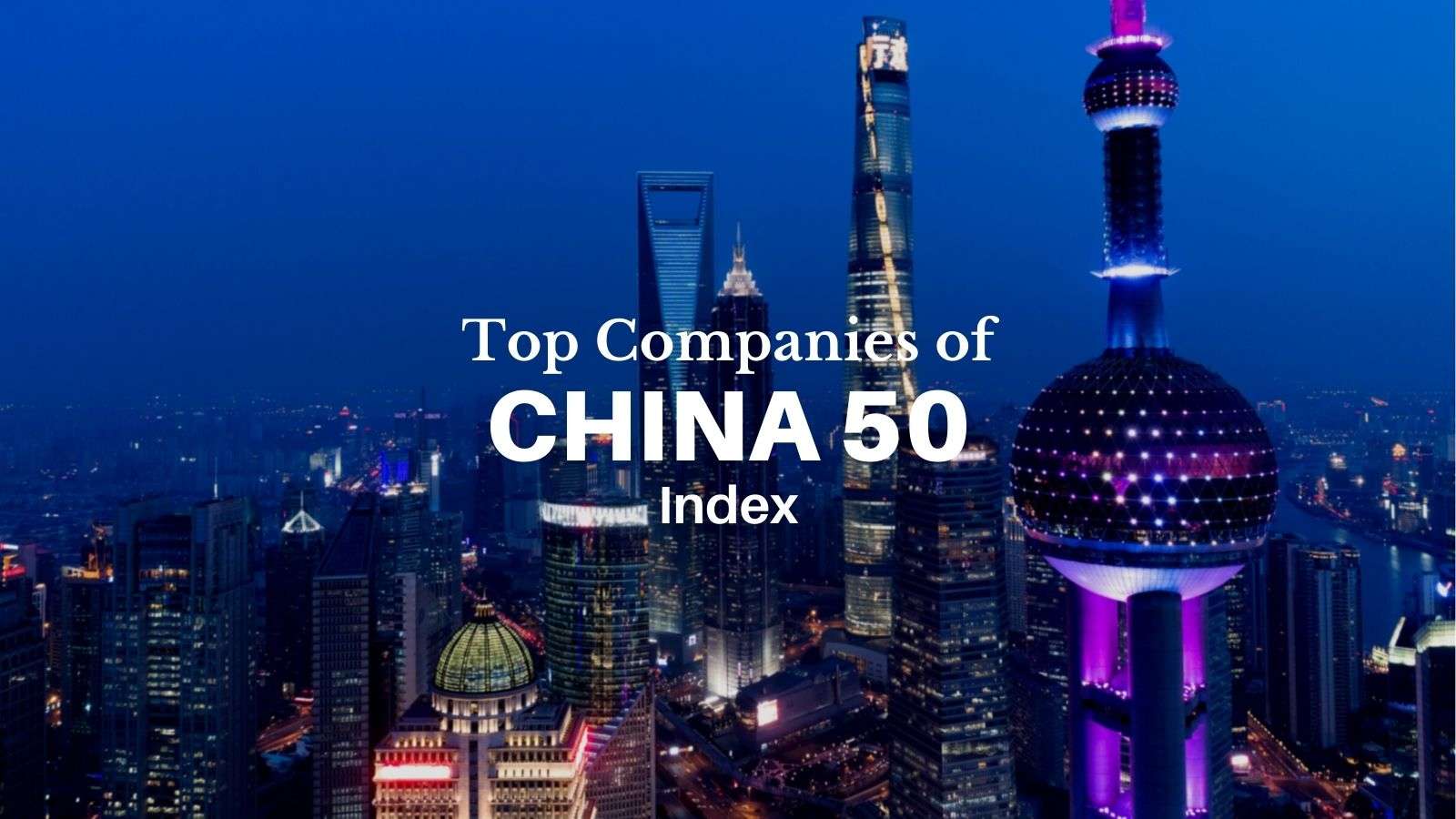 Who Should Invest in China 50 Index?
1. Stock Market Index Investors
Many investors focus on stock market indices like the S&P 500, NASDAQ 100, CAC 40, Nikkei 225, and the like because they find more opportunities while tracking their movements. China 50 is among the leading and most traded indices worldwide.
Some indices outperform one another, but that doesn't mean they are always better. Traders who watch major indexes of different countries with different trading hours may catch the right momentum to execute their trades.
2. Traders Who Like to Have Exposure in China
China, being the second-largest economy globally, has a great and important role not only in Asia but also in the entire global economy. That's why many traders can't ignore adding some Chinese equities, even just a tiny portion of their portfolio.
Many of the world's giant companies are in China, like PetroChina, Kweichow Moutai, and Bank of China. Likewise, many of the biggest brands in the world manufacture their products in China, perhaps even that device you're holding while browsing this content right now.
3. Long Term Investors
Stock market indices usually provide fantastic returns when invested for long term because they consist of large-cap stocks. Investors seeking capital preservation and growth choose to invest in a stock market index like China 50 or an ETF that replicates the performance of the China 50 index.
4. Thrill-seeker Traders
The Chinese market is always so unpredictable and can move similarly or opposite the US and European markets. Trade wars could strike unexpectedly, but opportunities will always be present. That adds more excitement for some active traders.
How to Invest in China 50 Index?
Two ways to invest in the China 50 index include buying shares of China 50 itself and investing in China 50 index ETF (Exchange-Traded Funds). The second option is more affordable because buying shares of an ETF is often cheaper.
China 50 Index ETFs
ETFs are also managed by financial experts who have exceptional skills to grow ETF portfolios. Well-known China 50 ETFs include iShares FTSE China A50 ETF and China AMC China 50 ETF. They aim to replicate the performance of the China 50 index.
Benefits of Investing in China 50 Index
Some of the benefits of investing in the China 50 index are diversification, growth potential, and liquidity. When you invest in China 50 index, you also invest in fifty different Chinese companies.
Stock market indices are also designed to measure the overall health of a specific market. Their goal is to grow continuously. It is also easy to enter and exit your trades whenever you reach your target profit.
What are the Risks of Trading China 50 Index?
Shanghai Stock Exchange 50 index (SSE 50) is a very volatile risky investment. Some factors that affect the movement of the China 50 index include trade war, market sentiment, political risks, inflation, interest rates, pandemic, news, and headlines.
Like other stock market indices, there is no guarantee that China 50 index will always give us profit. Investors must constantly evaluate their risk tolerance, investment horizon, and objectives before buying the China 50 index shares.
Other Stock Market Indexes:
Disclaimer: This article is for information purposes only and should not be considered as professional investment advice or recommendation of a particular asset. Past performance doesn't guarantee future results. All investments carry risks. Risk only the capital you're comfortable to lose.