Tech stocks always lead the growth of many investments including the NASDAQ 100 index which outperformed even the S&P 500 many times. In this page, we are sharing the top 30 companies listed on the Hang Seng Tech Index.
Many investors find great potential with Chinese stocks. It's undeniable that China is one of the most powerful economies in the world. China's technology will never be left behind. From state-of-the-art robotics to cutting-edge artificial intelligence, their technology continues to blossom.
Their internet users alone are gigantic. China has the highest number of internet users in 2022. It's 1.05 billion and it's is larger than the populations of the United States, Russia, Mexico, Germany, the United Kingdom, France, and Canada combined.
What is Hang Seng Tech Index?
Hang Seng Tech Index tracks the 30 largest tech companies listed on the Hong Kong stock exchange. This stock market index comprises of companies spanning in different technology industries including internet, fintech, cloud, eCommerce, and digital activities.
Top 30 Companies on the Hang Seng Tech Index in 2023
Hang Seng Tech index components go through a portfolio re-balancing. Over time, the list may add or remove new candidates. The companies are screened through strict criteria including whether they operate through a tech-enabled platform (through internet or mobile), their research and development expenses to revenue ratio, revenue growth, and market cap.
Hang Seng Tech Index components as of April 11, 2023 are:
| Company | Code |
| --- | --- |
| SenseTime | 20 |
| Ali Health | 241 |
| Kingdee Int'l | 268 |
| BYD Electronic | 285 |
| Tencent | 700 |
| China Lit | 772 |
| SMIC | 981 |
| Lenovo Group | 992 |
| Kuaishou | 1024 |
| Hua Hong Semiconductor | 1347 |
| Xiaomi | 1810 |
| PA Good Doctor | 1833 |
| Li Auto | 2015 |
| AAC Tech | 2018 |
| Sunny Optical | 2382 |
| Meituan | 3690 |
| Kingsoft | 3888 |
| ZA Online | 6060 |
| JD Health | 6618 |
| Haier Smartphone | 6690 |
| JD.com | 9618 |
| Bilibili | 9626 |
| GDS Holdings | 9698 |
| NIO | 9866 |
| XPENG | 9868 |
| Baidu | 9888 |
| Weibo | 9898 |
| Trip.com | 9961 |
| Alibaba | 9988 |
| NetEase | 9999 |
Who should Invest in Hang Seng Tech Index?
1. Tech Stocks Investors
If you want to diversify your tech portfolio with Chinese tech stocks like Alibaba, Tencent, Xiaomi, JD, Meituan, and the like, why not? These companies are enormous and are favorites by many traders, too—no wonder why they are listed on numerous stock exchanges worldwide.
2. Traders with business exposure in China
If you want to have business exposure in China, and you believe its economy and tech businesses will continue to innovate, then you can trade with these stocks. You should also consider being always updated with what's going on about the market and economy of China and Hong Kong.
3. Active Traders
Because these large market cap tech stocks create more price fluctuations, active traders can find a lot of opportunities riding the momentum, swing in and out, and scalping trade positions.
4. Long Term investors
Of course, there will always be investment prospects for long term investors of Hang Seng tech stocks. Besides investing in Hang Seng tech index, you can also select your top equities. If you want to go long, with buy and hold strategy, you can grow some profit choosing the best stocks suited for your analysis.
We hope that some ETFs that track the performance of the Hang Seng tech index will be introduced soon.
How to Trade Chinese Tech Stocks?
You can trade these stocks on the Hong Kong stock exchange and other stock exchanges. We are trading some of these instruments using an online platform called eToro. Many international companies are also available on this platform.
67% of retail investor accounts lose money when trading CFDs with this provider. You should consider whether you can afford to take the high risk of losing your money.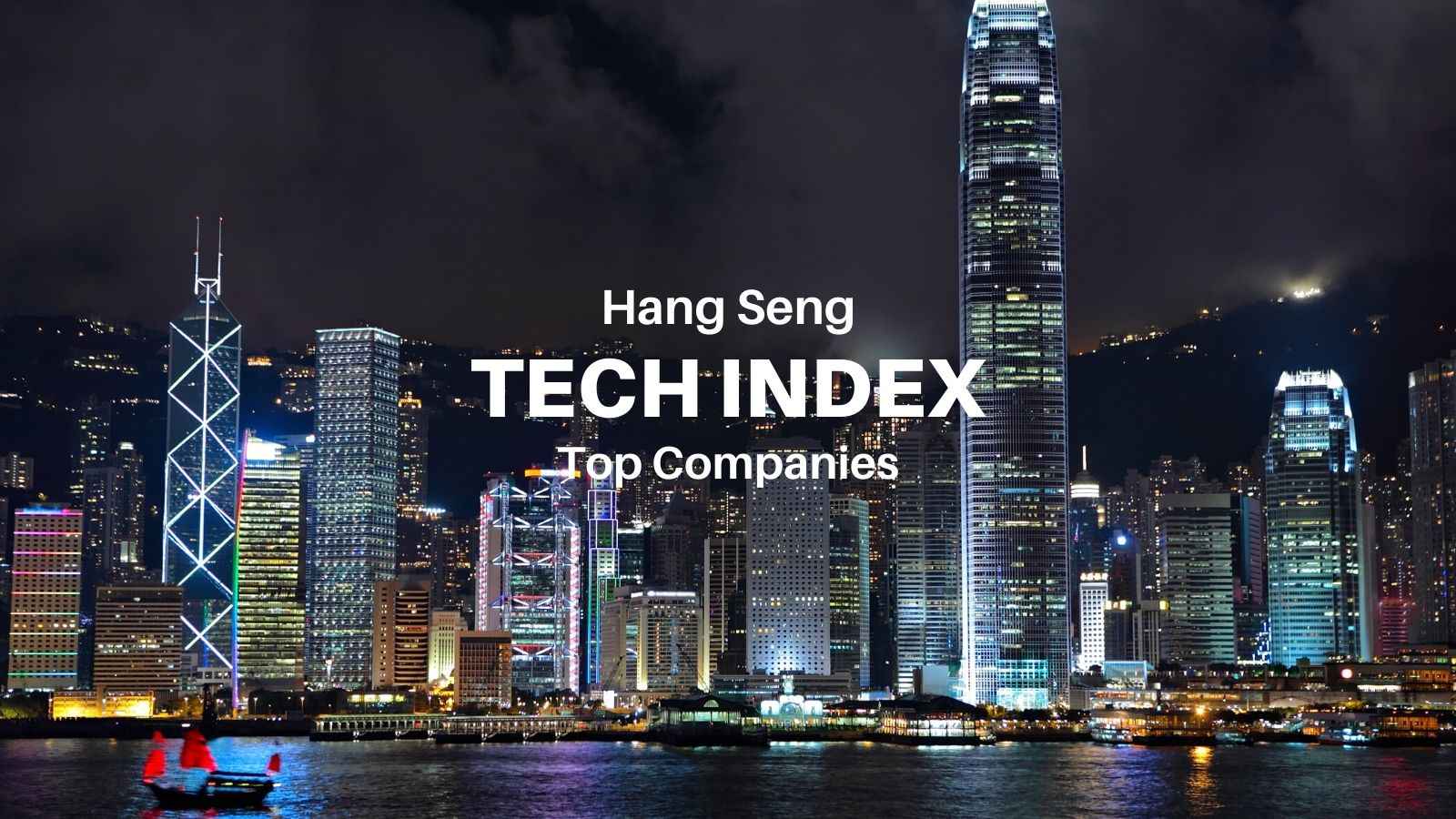 Top 8 Famous Chinese Stocks on the Hang Seng Tech Index:
1. Tencent
Tencent is a gaming and social media giant with a market cap of HKD 3.6 trillion. Its businesses include online games, social networks, fintech, cloud, utilities, media and digital content. They created the popular platforms WeChat and QQ.
Tencent serves over 1 billion users around the world. Their ventures include some of the biggest games in the world: League of Legends, Fortnite, Call of Duty, Honour of Kings / Arena of Valor, and Peacekeeper Elite.
2. Meituan
Meituan is China's leading eCommerce platform for services operating popular mobile apps such as Meituan, Dianping, Meituan Waimai, Mobike, and others. This well-known food-delivery icon also serves car-hailing, bike-sharing, hotel and travel booking, movie ticketing, and many more.
With over HKD837 billion market cap, it's exciting to see how fast this company is growing its business segments.
3. BYD Electronic
BYD Electronic International is a giant manufacturer of components for smartphones and mobile handsets. It also provides software and hardware design and assembles electronic products. BYD Electronic has bases in China, Chennai, India, Hungary, and Romania.
4. Xiaomi
Xiaomi is the fourth-largest smartphone brand in the world. The company also creates numerous electronics and devices like laptops, bags, earphones, TV, shoes, fitness brands, camera, and many more.
Xiaomi ranked 31st among the Most Innovative Companies (listed by Boston Consulting Group). It has approximately HKD 239 billion market cap.
5. Alibaba
Alibaba is the largest eCommerce company in China and one of the biggest online retail companies in the world. BABA has around HKD 2 trillion market capitalization as of this writing. This stock is both traded on Wall Street and Hong Kong stock exchange.
According to Alibaba, they set 5-year goals to serve over 1 billion annual active consumers and achieve over RMB10 trillion in annual consumption.
6. Sunny Optical
Sunny Optical is a prominent optical tech manufacturer in China. The company designs, manufactures, and sells lenses and optical devices worldwide.
The optical tech company has operated for more than 30 years and has Research and Development centers in North America, Japan, Singapore, South Korea, and Taiwan. Sunny Optical has over HKD 100 billion market capitalization.
7. Ali Health
Ali Health is Alibaba Health Information Technology Limited, an investment holding company that provides pharmaceutical eCommerce and intelligent medicine and product tracking platform in China.
8. SMIC
SMIC also means Semiconductor Manufacturing International Corporation. It designs, manufactures, and distributes integrated circuits (IC) and other semiconductor services. The company operates in North America, China, Hong Kong, and Eurasia.
World's Top Indexes:
Disclaimer: This content is for information purposes only and should never be considered as professional advice. Every investor has a different risk tolerance and goals. Always do your own research or hire an expert before making an investment. All investments have risks. Perform due diligence when investing your money.