The top 50 companies of the Euro Stoxx 50 index in terms of market capitalization are listed on this page. If you're interested in investing in these top blue-chip stocks of nine European countries, you better bookmark this post to view the updated list.
The Eurozone has some of the most stable and established companies worldwide. Some of them were established more than a hundred years. Many of these companies are also among the most trusted brands in the world today.
What is EURO STOXX 50 Index?
The Euro Stoxx 50 is a stock market index consisting of the leading blue-chip stocks from 9 countries in Europe: France, Germany, Belgium, the Netherlands, Finland, Italy, Spain, Luxembourg, and Ireland. Euro Stoxx 50 is managed by STOXX, a reputable index provider owned by Deutsche Börse Group.
List of EURO STOXX 50 Index Components in 2023
Like other leading stock market indices, the EURO STOXX 50 undergoes periodical portfolio evaluation and adjustment. The blue-chip stocks listed on the EURO STOXX are screened carefully according to STOXX's strict eligibility, requirements, and goals. Hence, a company could be added or removed from the index after a systematic review.
What makes up the EURO STOXX 50? The following are the top 50 companies listed on the EURO STOXX 50 index by market capitalization.
Company
Market Cap (in €)
Country
LVMH Moet Hennessy Louis Vuitton
422.61 Billion
France
ASML Holding
246.08 Billion
Netherlands
L'oreal
221.27 Billion
France
Hermes International
197.16 Billion
France
Linde
159.63 Billion
Germany
SAP
144.08 Billion
Germany
TotalEnergies
143.44 Billion
France
Prosus
138.74 Billion
Netherlands
Sanofi
129.93 Billion
France
Siemens
112.86 Billion
Germany
Deutsche Telekom
112.69 Billion
Germany
Anheuser-Busch InBev
105.63 Billion
Belgium
Mercedes-Benz Group
101.90 Billion
Germany
Airbus
100.08 Billion
France
Industria de Diseno Textil
96.25 Billion
Spain
Allianz
87.36 Billion
Germany
Air Liquide
83.17 Billion
France
Schneider Electric
81.67 Billion
France
Iberdrola
76.03 Billion
Spain
EssilorLuxottica
74.01 Billion
France
BNP Paribas
71.06 Billion
France
Volkswagen
70.98 Billion
Germany
Kering
70.07 Billion
France
AXA
66.18 Billion
France
BMW
65.02 Billion
Germany
Vinci
63.50 Billion
France
Bayer
60.18 Billion
Germany
Enel
59.91 Billion
Italy
Safran
58.77 Billion
France
Banco Santander
58.56 Billion
Spain
Pernod Ricard
53.19 Billion
France
Stellantis
53.19 Billion
Italy
Deutsche Post
51.52 Billion
Germany
Eni
48.41 Billion
Italy
Infineon Technologies
46.40 Billion
Germany
Muenchener Rueck
46.26 Billion
Germany
Intesa Sanpaolo
44.98 Billion
Italy
Adyen
44.40 Billion
Netherlands
BASF
43.66 Billion
Germany
ING Group
41.74 Billion
Netherlands
Danone
40.68 Billion
France
Banco Bilbao Vizcaya Argentaria
39.48 Billion
Spain
Nordea Bank
35.51 Billion
Finland
Deutsche Boerse
34.62 Billion
Germany
CRH
32.02 Billion
Ireland
Ahold Delhaize
31.06 Billion
Netherlands
Adidas
29.64 Billion
Germany
Flutter Entertainment
29.56 Billion
Ireland
Nokia
25.50 Billion
Finland
Vonovia
14.25 Billion
Germany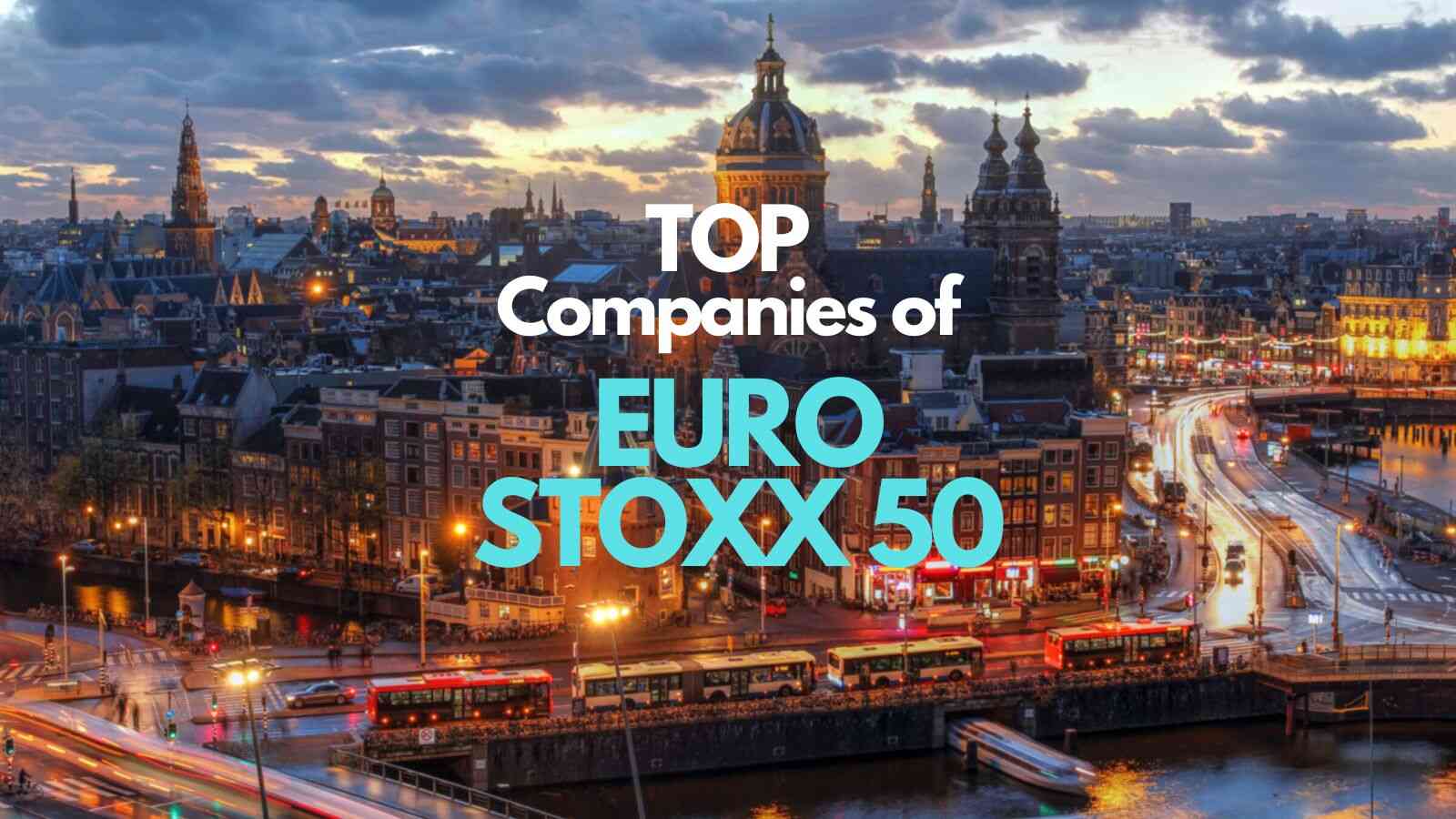 Top 18 Companies of EURO STOXX 50 Index by Market Cap
1. LVMH Moet Hennessy Louis Vuitton (MC.PA)
LVMH is the world's leading luxury products company. It's home to 75 prestigious brands, including Christian Dior, Fendi, Givenchy, Louis Vuitton, Marc Jacobs, Kenzo, Celine, RIMOWA, Bulgari, Tiffany & Co., TAG Heuer, Hublot, DFS, Sephora, Hennessy, Mercier, Moët & Chandon, and lot more prominent houses.
LVMH makes money from its six business sectors: wine and spirits, fashion and leather goods, perfumes and cosmetics, watches and jewelry, selective retailing, and other activities.
2. ASML Holding (ASML)
ASML Holding is a Dutch semiconductor company founded in 1984. The world's top chipmakers use ASML's lithography technology to mass produce state-of-the-art microchips. Aside from being one of the top constituents of Euro STOXX 50, ASML is also part of the popular technology stock market index, NASDAQ 100.
3. L'Oreal (OR.PA)
L'Oreal is the largest cosmetics company in the world, founded in 1909. The famous French beauty firm owns 35 international brands like Yves Saint Laurent, Giorgio Armani, Lancome, Ralph Lauren, Valentino, Prada, Kiehl's, Maison Margiela, Shu Uemura, Urban Decay, Biotherm, Mugler, Cacharel, NYX Professional Makeup, L'Oreal Paris, Garnier, Maybelline New York, Kerastase, Matrix and more trusted names.
4. Hermes International (RMS.PA)
Hermes is a French luxury design house founded in 1837 by Thierry Hermes. The international fashion retail company operates in different sectors such as fashion jewelry, games and outdoor, shoes, hats, ties, pets, gifts, and make-up. Hermes has over €197 billion market cap and is listed among the top stocks of the CAC 40 index.
5. Linde (LIN)
Linde is the world's largest industrial gases and engineering company founded in 1879 by Carl Linde in Wiesbaden, Germany. It provides industrial gases to broad markets, including healthcare, pharmaceutical, transportation, metal fabrication, electronics, infrastructure, aquaculture, chemicals, food and beverages, leisure and hospitality, water and wastewater treatment, power, and energy.
6. SAP (SAP)
SAP is a global software company established in 1972 in Germany by five former IBM employees. It stands for Systems, Applications, and Products in Data Processing. SAP has been the Number 1 software company on Dow Jones Sustainability Index for 14 years. It's among the top components of Euro STOXX 50 and DAX 40 index.
7. TotalEnergies (TTE)
TotalEnergies is a global energy company that produces and markets oil and biofuels, natural gas, green gases, and renewable energy worldwide. Total also transforms and develops electricity, polymers, refining, and petrochemicals. The giant petroleum firm was established in 1924 and is now among the world's top 7 supermajor oil companies.
8. Prosus (PRX)
Prosus was founded in 1997 and is based in Amsterdam, Netherlands. It is a global internet firm and one of the biggest technology investors in the world today. Prosus invests significantly in Tencent, DeliveryHero, Mail.ru, and Ctrip.com International Limited.
9. Sanofi (SAN.PA)
Sanofi is an innovative biopharmaceutical and healthcare company based in Paris, France. The company researches, develops, manufactures, and distributes treatment solutions and vaccines worldwide. Sanofi operates in 100 countries around the world. It has over €129 billion market cap.
10. Siemens (SIE)
Siemens is a German technology company established in 1847. It is the largest industrial manufacturing company in Europe. Siemens has four business segments: digital industries, smart infrastructure, mobility, and healthcare. The German tech is also a constituent of STOXX Europe 50.
11. Deutsche Telekom (DTE)
Deutsche Telekom is one of the world's leading telecommunications companies. The telco giant is headquartered in Bonn, Germany. It serves over 248 million mobile customers, 26 million fixed-network lines, and 22 million broadband lines. Deutsche Telekom is among the largest companies on the EURO STOXX 50 index.
12. Anheuser-Busch InBev (ABI)
Anheuser-Busch InBev is a global beverage and brewing company based in Leuven, Belgium. It is also known as the world's largest brewer. Anheuser-Busch InBev houses more than 500 iconic brands, including Budweiser, the most valued beer brand in the world. Its notable brands include Aguila, Beck's, Brahma, Cass, Castle, Corona, Harbin, Jupiler, Leffe, Michelob Ultra, Modelo Especial, Quilmes, Skol, and Stella Artois.
13. Mercedes-Benz Group (MBG)
Mercedes-Benz Group (formerly Daimler) is a popular German automotive company producing premium and luxury cars and vans globally. It has prominent brands including Mercedes-AMG, Maybach, Mercedes-EQ and Mercedes me as well as the brands of Mercedes-Benz Mobility: Mercedes-Benz Bank, Mercedes-Benz Financial Services and Athlon.
14. Airbus (AIR)
Airbus is the largest aeronautics and space company in Europe. It was founded in 1970 in Blagnac, France. Airbus designs, produces, and delivers innovative aerospace products, services, and solutions worldwide. The aircraft creator currently has an €89 billion market capitalization.
15. Industria de Diseno Textil (ITX)
Industria de Diseno Textil is a Spanish giant clothing company that started in 1963. It houses notable fashion brands like Zara, Bershka, Stradivarius, Pull&Bear, Massimo Dutti, Oysho, and Zara Home. ITX stock is among the top traded stocks on the Bolsa de Madrid (Madrid Stock Exchange).
16. Allianz (ALV)
Allianz is among the largest financial firms in the world. Its business cores are insurance and asset management. The German company has over 126 million private and corporate clients in 70 countries worldwide.
17. Air Liquide (AI.PA)
Air Liquide is a prominent player in the fields of Industry and Health, providing gases, technologies, and services. The company was founded in 1902. The French company possesses state-of-the-art technologies for the production and distribution of oxygen, nitrogen, and hydrogen.
18. Schneider Electric (SU.PA)
Schneider Electric is an energy and digital transformation French company founded in 1836. Its main business segments include power generation, transmission and distribution, and demand for consumers.
Advantages of Investing in EURO STOXX 50 Index
1. Investment Exposure in Europe
You will have investment exposure in many countries in the European region. Instead of focusing only on one country, the EURO STOXX 50 can add more opportunities since it currently picks the leading stocks of eight wealthy European countries.
2. Diversification
The EURO STOXX is a basket of 50 giant companies in Europe. Our investment will be diversified to different blue-chip companies which are leaders in various business sectors across Europe. Diversification can also help minimize risks since the investment is not concentrated on a single industry.
3. Income potential
Stock market indices like EURO STOXX 50 have positive income potential because they are designed to grow over time. Most stocks listed on EURO STOXX 50 have an optimistic business outlook and solid track records. Thus, investing in EURO STOXX 50 index funds and ETFs will always open profitable opportunities.
4. Trading Skills
Beginner or not, trading and investing in EURO STOXX 50 index can develop your trading skills. You will always learn valuable lessons from your trading experiences, no matter how much money you have gained or lost.
How to Invest in Euro Stoxx 50?
Step 1: Evaluate your risk tolerance and strategy
Although Euro Stoxx 50 is composed of fifty leading blue-chip stocks in Europe, investors must evaluate their risk tolerance and plan their investment strategy to achieve their objectives. Trading in the stock market is very risky and unpredictable. It requires trading skills and proper risk management.
Step 2: Invest in Index Funds that track the EURO STOXX 50
The easiest way to invest in EURO STOXX 50 index is by investing in an index fund, equity fund, or Exchange-Traded Fund (ETF) that tracks the EURO STOXX 50 index. Trusted investment firms professionally manage these funds. Some of the most popular funds that track the EURO STOXX 50 are the following:
iShares Core EURO STOXX 50 UCITS ETF
Fidelity Funds EURO STOXX 50 Fund A-EUR
Invesco EURO STOXX 50 UCITS ETF
Step 3: Follow your target profit
Once your investment reaches your target profit or target period, you can close or lock in your gains. Then, you can re-invest your money to another asset or shares of EURO STOXX 50 equity funds when the market turns in your favor.
FAQ About EURO STOXX 50 Index:
What does STOXX stand for?
STOXX is a prominent global index series provider owned by Deutsche Börse Group. STOXX Ltd. headquarters in Zug, Switzerland. Some of its popular stock market indices include the EURO STOXX 50, STOXX Global 1800, Stoxx Euro 600, STOXX Global Select 100 EUR, STOXX Global 3000, and Euro Stoxx 50 ESG index.
Is EURO STOXX 50 a good investment?
EURO STOXX 50 can be a good investment because it invests in multiple excellent companies in one basket. The index comprises leading blue-chip stocks in different sectors across the Euro zone. Besides diversification, the fund can also grow over time in long term.
Are there risks in trading Euro Stoxx 50?
Yes, there are considerable risks in trading EURO STOXX 50 because the prices of stocks fluctuate quickly, and past performance does not predict similar results. The year-to-date performance of the EURO STOXX 50 index is 12.53%. Volatility will always stay on the stock market.
Does EURO STOXX 50 include the UK?
The Euro Stoxx 50 index does not currently include the UK. The 50 companies listed on the EURO STOXX 50 index are from countries that adopted a single currency, the Euro. The UK is included on the STOXX Europe 50, another index consisting of stocks from 17 European countries.
Disclaimer: This content is solely for informational purposes and should never be considered as professional investment advice. Every investor has a different risk tolerance and objective. All investments have risks. Always do your own research and apply due diligence before investing. The data contained herein are not warranted to be accurate at all times.