Another way to earn money if you are investing in the stock market is by receiving dividends. However, not all companies pay dividends.
Before deciding what stocks to include in your portfolio, it is always beneficial to include dividend-paying stocks among your stock picks.
On this page, we are sharing with you which Philippine stocks give dividends. Whether you are an apprentice or long-time trader, 2023 is expected to be a year of opportunities for traders and investors.
What are Dividend Stocks?
Dividend stocks are reputable companies that pay out dividends regularly. They are known to be stable companies with consistent earnings; thus they reward dividends to their shareholders frequently.
How to Claim Stock Dividends in the Philippines?
How should you know if you received dividends from your stock investments? Dividends are usually paid in the form of stocks and cash. You will easily know that you received a dividend in this modern realm because most stockbrokers send email notifications to shareholders eligible for dividends.
Sample dividend notification below:
The complete details of your shares of stock that are qualified for dividends are also included in the notification. Cash will be credited to your trading cash balance if you are entitled to receive cash resulting from dividends.
Additional stock shares will be added to your portfolio if you are qualified to receive stocks resulting from dividends.
Top Dividend Paying Stocks in the Philippines in 2023:
The following are the top dividend stocks in the Philippines to invest in 2023. They compose of mostly blue-chip stocks with high dividend potential and with positive BUY ratings. Therefore, they are expected to provide upside results or outperform the PSEI.
| Company | Div Yield |
| --- | --- |
| Aboitiz Equity Ventures | 2.78% |
| Aboitiz Power Corp. | 3.82% |
| Ayala Corp. | 0.92% |
| Ayala Land | 0.83% |
| BPI | 1.92% |
| BDO | 0.82% |
| Century Pacific Food | 1.48% |
| D&L Industries | 2.90% |
| DMCI Holdings | 9.55% |
| Filinvest Land | 5.34% |
| First Gen Corp. | 4.18% |
| Globe Telecom | 4.94% |
| GT Capital Holdings | 0.57% |
| JG Summit Holdings | 0.71% |
| Jollibee Foods Corp. | 0.95% |
| LT Group | 13.51% |
| Manila Electric | 5.50% |
| Metro Pacific Investments | 2.40% |
| Metrobank | 5.11% |
| PLDT | 5.97% |
| Puregold | 2.44% |
| Robinsons Land | 3.10% |
| Robinsons Retail Holdings | 3.43% |
| San Miguel Corp. | 1.47% |
| San Miguel Food & Beverage | 3.89% |
| Security Bank | 3.19% |
| SM Investments Corp. | 0.66% |
| SM Prime Holdings | 0.26% |
| Universal Robina Corp. | 2.42% |
| Wilcon Depot | 0.67% |
How to Choose the Highest Dividend Paying Stock in the Philippines?
If the company has a high dividend yield, it doesn't mean that it has an upside earning potential or long-term growth. A high dividend yield doesn't determine the profitability of the stock. To choose your stock picks, it's important to consider the stock's current price, the fundamentals of the company, periodic earnings, future projects, and catalysts.
Dividend Details You Should Know About
Ex-Div Date
Ex-Dividend Date means any holder of shares at the end of the trading day before this date is entitled to receive a dividend. Note that buying on the Ex-Div Date will not entitle you to dividends.
Record Date
It means that if you are not a registered owner of the stocks as of this date, you will not be given dividends.
Payable Date
It is the date when your dividends will be paid to you or will be credited to your account.
Dividend Yield
Dividend Yield is a ratio that is equivalent to the company's annual dividend payments compared to the stock's current price (annual dividend divided by stock price).
The higher the dividend yield, the higher the money you will likely receive as dividends. However, you should not be confident with high div yield alone because it is more important to analyze a company's financial health and the consistency of dividend payments history.
Dividend Payout Ratio
Dividend Payout Ratio represents the company's proportion of earnings paid out as dividends to shareholders. It is calculated by taking the company's dividends per share divided by the earnings per share (EPS).
The payout ratio is helpful because it tells investors how much money from the company's profit is given back to shareholders as dividends compared to how much is retained. That being said, it helps to determine the available funds to support and grow the business.
Why some companies don't pay dividends?
Not all companies pay dividends because they want to re-invest all their money to expand their business, settle existing debt, acquire other companies, improve their research and development, and innovate their technology.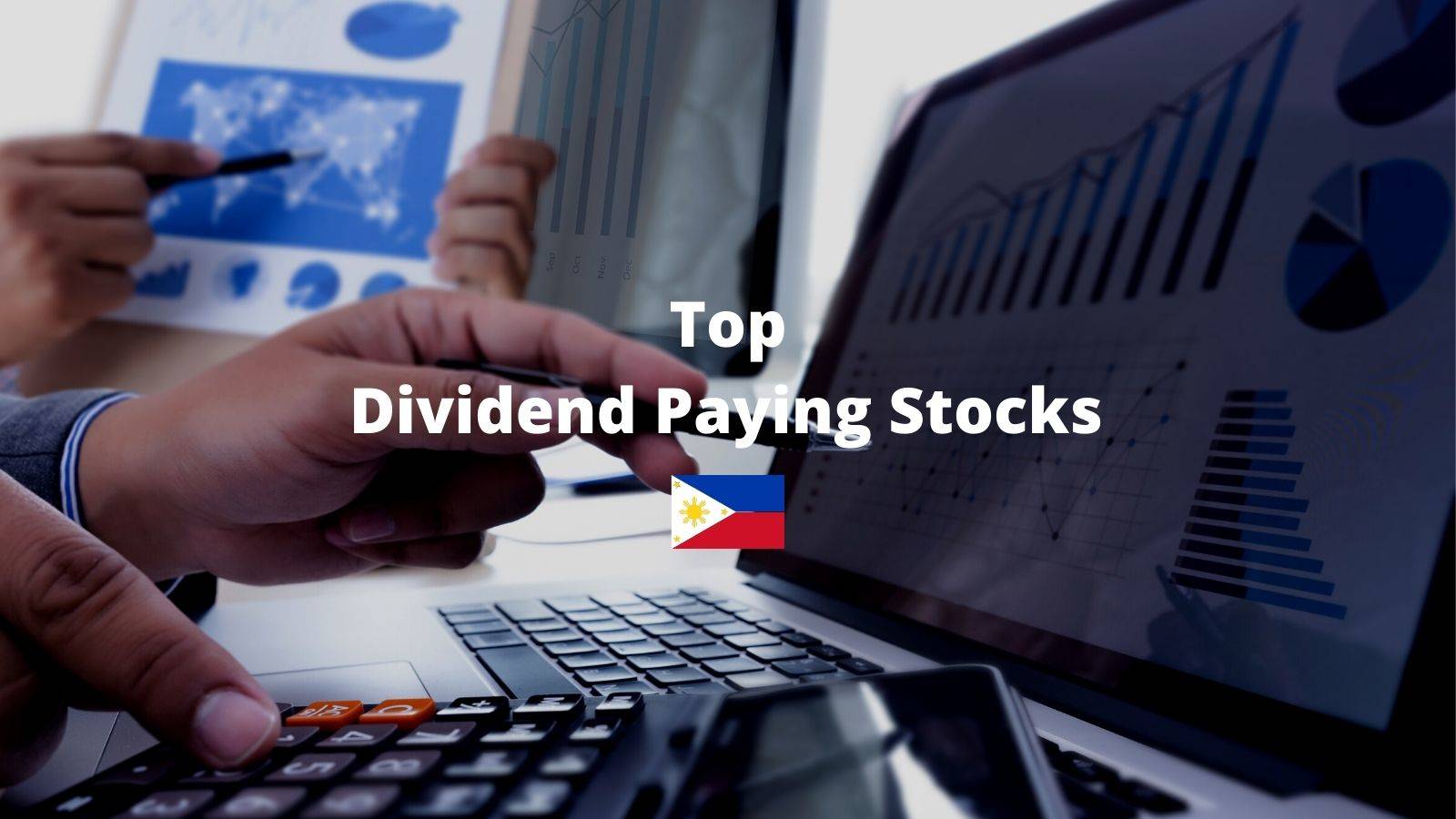 How to Invest in Dividend Stocks in the Philippines?
1. Open an online broker accredited by the PSE
Most of the country's biggest banks have their online trading platforms today, and they are accredited by the Philippine Stock Exchange. You may open an account online from the top stockbrokers like BDO Securities (former BDO Nomura), First Metro Sec (for Metrobank clients), and COL Financial.
2. Analyze your dividend-paying stocks
Before you start investing with dividend stocks, add the companies you like to your watchlist. Then analyze and evaluate each of them to sort out your final choices of companies. You may refer to the guide "how to choose high dividend paying stocks in the Philippines."
3. Follow your investment strategy
Most investors that focus on dividend stocks follow a long-term investment approach. In short, they buy and hold their shares of stocks until they have grown their portfolio according to their target profit.
4. Receive your dividends
While you hold your shares of stock, you can accumulate extra income derived from dividends. Similarly, the value of your blue-chip stocks also grows over time.
5. Lock in your profit
You may sell your stock shares when they reached your target profit or when you think that the stock price has reached its optimal level. You can then decide what to do with your profit.
Most shareholders reinvest their profit to repurchase stocks, especially when they see an excellent entry point. Talk about the power of compounding money.
Now that you know what are the best companies that pay dividends in the Philippines, you may also like these investing guides:
Disclaimer: This article is for information purpose only and should never be considered as professional advice. Every investor has a different risk profile and goal. All investments have risks. Always do your own research before investing in the stock market.