COL Fund Source is finally live and active. Now we can make, open, add, redeem, mutual funds account online via COL Financial. And here's the step by step ways how to do it.
The most convenient way to invest different mutual funds online has finally happened and made possible by COL Financial with the top mutual funds in the country.
As a happy investor, I want to share here my experience so far opening a mutual fund via COL. It's actually easy and it would only take few minutes of your time.
How to Open Mutual Funds Online
Requirements:
COL Financial active account
Enough money in your account (or enough buying power)
Steps by Steps Procedures in Opening Mutual Fund Online:
Log in to your COL Financial account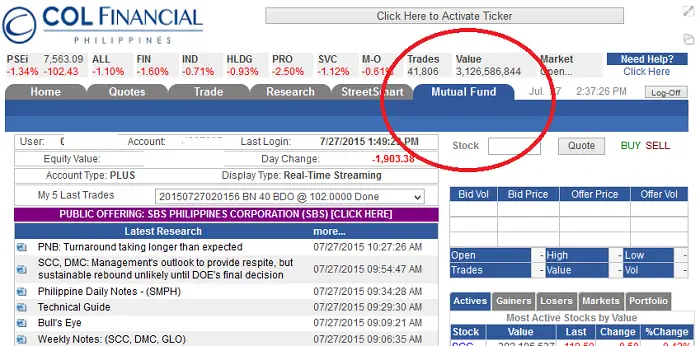 Tap the Mutual Fund tab
Select Order Entry
If you are a first time investor of mutual fund via COL, you have to answer the Client Suitability Assessment (CSA). It is part of the mutual fund account opening process. It is an important way to assess your risk profile as an investor.
After you answered the CSA, you'll be able to see your Investor Risk Profile (ie: Moderately Aggressive, conservative, etc.). You will also be able to know the available Mutual Funds that suit your risk profile.
You can then start to invest. Make sure you have enough funds (buying power) before you execute an investment order.
Go to Order Entry and type the code of the MF you want to invest. Select the Fund Code (in blue link) to know all the codes associated the MF of your interest.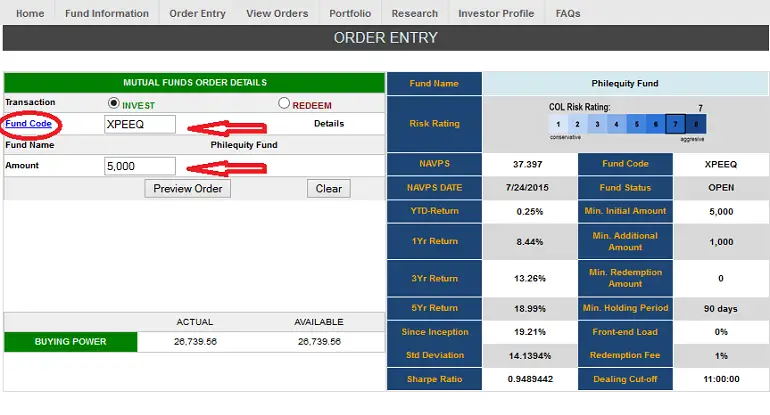 In this example, I want to invest Philequity Fund and I need to type the code XPEEQ.
Type the amount of your investment and select Preview Order.
In case you are investing a fund not suitable for your Risk Profile, confirm the Waiver that would appear.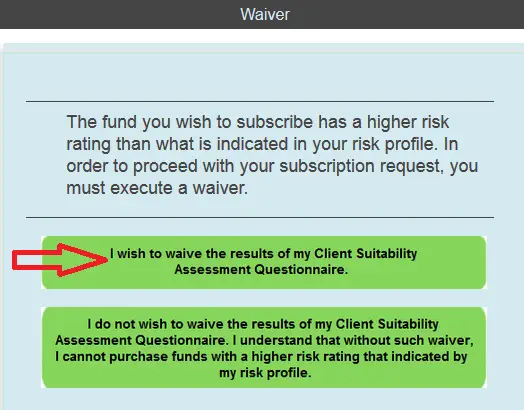 Preview your order and enter your COL account password to confirm your order.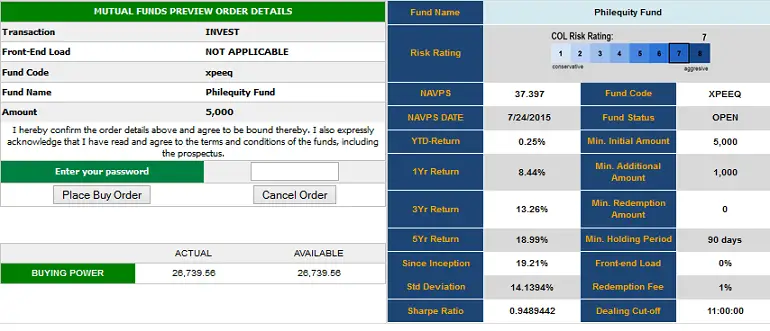 Congratulations! You just made a mutual fund investment online! You'll receive an acknowledgement like this and an email confirming your new investment.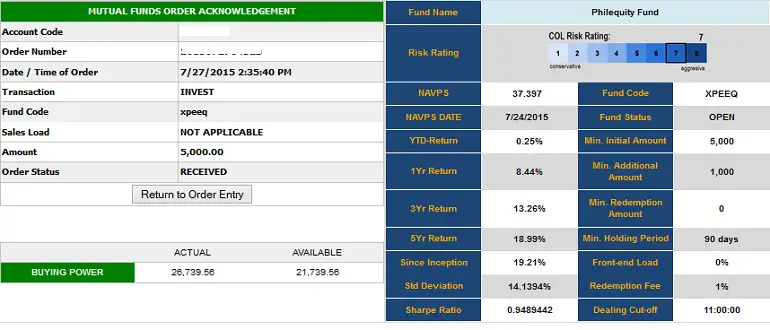 What's next? Well depending on your objective as an investor, every one of us has his own goal.
Follow your goal and appreciate your portfolio as it grows more and more. All the helpful guides are available in your COL Fund Source and all reviews of Mutual Funds are available in this website as well.
And here's the video of how to invest mutual fund online using COL Financial.
Cheers! Happy investing! Have questions, share them in the thread below.