Here are 15 types of investments for beginners in the Philippines you may start in 2023. If you're looking for effective ways to invest your money and earn higher returns, we listed some of the best, safe, and easy investments for newbies.
Investing is not a common habit of Filipinos. When it comes to savings, we've been enticed to keep our money in the bank which provides us with lower interest rates than it is worth. Not to mention rates that cannot beat the current inflation.
However, many investment opportunities today can take your financial growth to the next level.
Why should you start an investment even as a newbie?
Investing is one of the best ways to build wealth. You should not be scared to start investing, even as a newbie, because it will teach you the proper mindset to become financially stable and successful. You will learn these advantages:
Power of compound interest
Financial literacy
Wealth management
Trading in the stock market
Comfortable retirement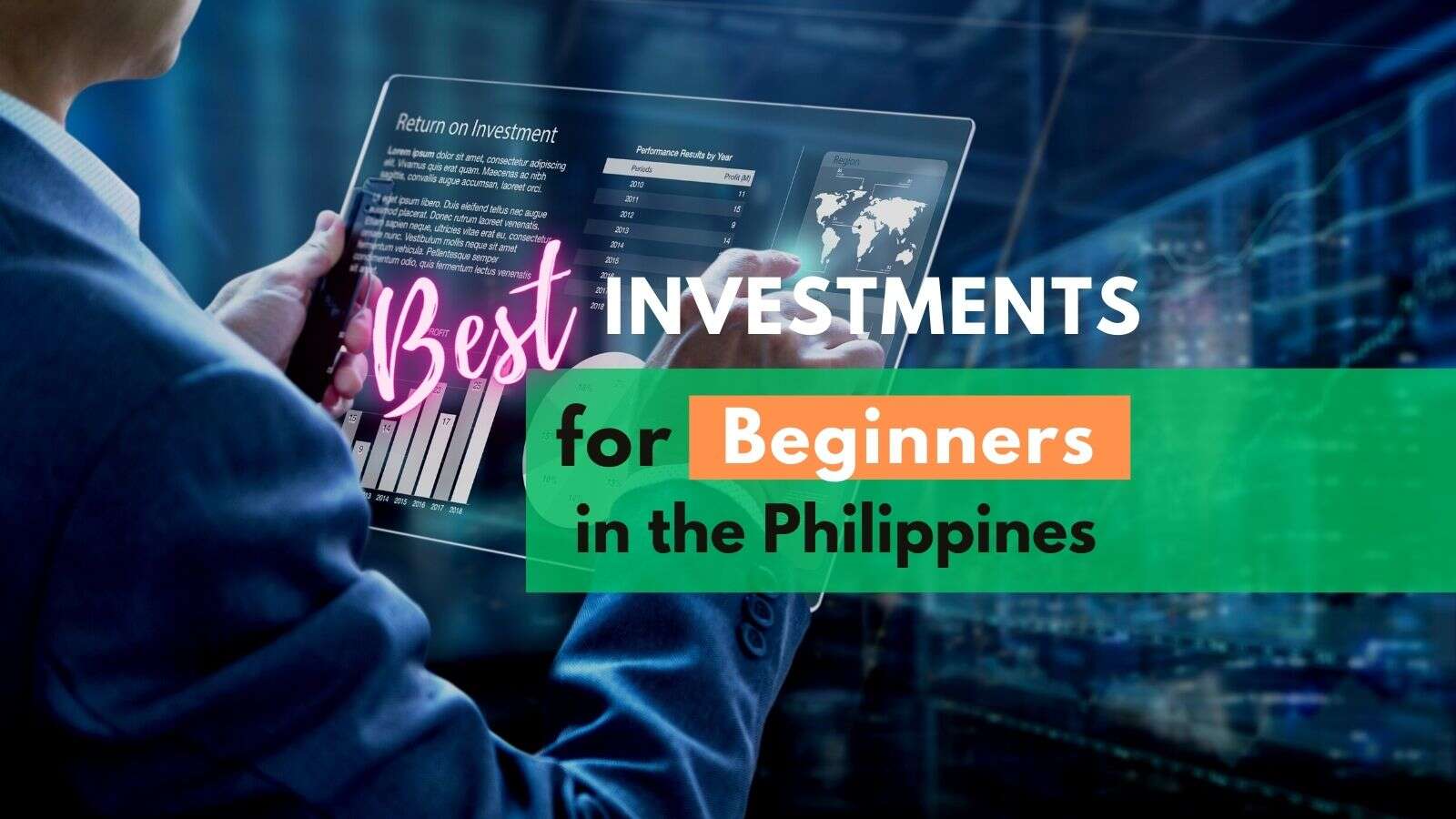 15 Best Investments for Beginners in the Philippines
GInvest at GCash
GInvest is among the best investments for beginners in the Philippines because it offers the lowest minimum amount to grow your money. With just P50, you can start investing. Another benefit of this feature is it doesn't charge commission and sales fees like other funds on the market.

Get the most out of GCash by using its revolutionary investment app. It's the easiest way to grow your capital with fixed-income funds, bonds, stocks, and mutual funds. All you need is a fully verified GCash account and one valid ID to start your journey to financial independence.
It's easy for everyone — from beginners to seasoned investors. If you have money in your bank, fund your GCash account and use GInvest as an investment tool.
You can invest the following funds in the Philippines using GInvest:
Philippine Stock Index Fund
ALFM Global Multi-Asset Income Fund
ATRAM Peso Money Market Fund
ATRAM Total Return Peso Bond Fund
ATRAM Philippine Equity Smart Index Fund
ATRAM Global Technology Feeder Fund
ATRAM Global Consumer Trends Feeder Funds
ATRAM Global Infra Equity Feeder Fund
ATRAM Global Health Care Fund
ATRAM Global Equity Opportunity Feeder Fund
ATRAM Philippine Sustainable Development and Growth Fund
Minimum amount to invest: P50
Availability: Fully verified GCash account
Income potential: Your money will grow depending on the performance of the GFunds investments
How to withdraw your money from GInvest?
You will see your Total Investment Value on your Gcash account. Sell your shares or units when your funds incur gains. Money will be added to your GCash account balance.
Also read: "How to Generate Fixed Income in the Philippines?"
SSS Workers' Investment and Savings Program (WISP) Plus is the newest program offered by the Social Security System in the Philippines to all its members. It is a voluntary provident fund that offers a competitive, convenient, and tax-free savings scheme.
If you're a member of the SSS, you can take advantage of the new SSS WISP Plus. Your WISP contributions can generate higher returns than your regular savings account or time deposit. SSS WISP Plus is also a good investment in the Philippines for OFW.

Minimum amount to contribute: P500 per transaction
Availability: Open to all SSS members
Interest rate: 3% and up, depending on the performance of the allocated investment and benchmark
How to withdraw your WISP Plus earnings?
Withdrawals may only be made after the 1-year holding period with a reduced income. If done after the 5-year maturity, interest income will be received in full.
Retail Treasury Bonds (RTB)
It might be hard to believe, but many people in the Philippines don't know about RTBs or T-Bonds. These are, in fact, among the favorite investments of wealthy people. Yet you don't have to be a millionaire to invest in Retail Treasury Bonds.
The Bureau of Treasury issues Retail Treasury Bonds to raise funds for the government. RTBs are one of the best investments for beginners in the Philippines because they offer attractive rates and flexible tenures that can be customized to the needs of investors.
Unlike time deposits with fixed terms, RTBs can be bought or sold at prevailing market rates, making it easy to invest in them without worrying about how much you'll earn when you redeem them.
And unlike other government bonds, RTBs pay quarterly interest if held until maturity. With its low minimum investment amount and wide range of maturities, this investment is perfect for first-time investors who want to start small yet earn big.
Minimum amount to open: P5,000
Availability: Major banks in PH offer RTB
Interest rate: 4% and up; the longer tenure, the higher the interest rate
How to withdraw your income from Retail Treasury Bonds?
Income is paid every quarter at your chosen linked bank account. To learn more about RTB, read this detailed guide, "How to Invest in Retail Treasury Bonds in the Philippines."
REITs (Real Estate Investment Trust)
If you want to invest in real estate but don't have a huge capital or a massive bank account, start by buying some REIT shares every month or whenever you have spare cash.
REITs are excellent income-generating assets both for beginner and expert investors. There are five things I love about REITs:
Dividends – you will receive dividend income every quarter
Diversification -owning shares of a REIT fund provides exposure to many different types of real estate assets across different geographic segments without having to manage each individual asset directly
Liquidity – you can buy and sell shares quickly online
Affordability – you can buy shares even below P5,000
Easy to invest – most online brokers accredited by the Philippine Stock Exchange offer REITs

Minimum amount to invest: P1,500
Availability: PSE online trading account
Income potential: quarterly dividends + shares value grow over time
How to receive your earnings from REITs?
REITs pay cash dividends every quarter. Cash will be credited to your cash balance on your brokerage account. Likewise, profit from selling REITs will be added to your account. Thus, a Real Estate Investment Trust is among the assets where should a beginner start investing his money.
Check out this quick guide about the "Best REITs in the Philippines."
Pag-ibig MP2
If you're a Pag-ibig Fund or HDMF (Home Development Mutual Fund) member, another investment opportunity for you is Pag-ibig MP2.
Pag-ibig MP2 offers more attractive income potential than the regular Pag-ibig Savings Program because the dividend rate is higher, currently in the range of 6%.
The program is also open to all Pag-ibig members and former members (pensioners and retirees).

Minimum amount to invest: P500 per remittance
Availability: Enroll online through Virtual Pag-ibig
Dividend rate: 6% or more
How to withdraw your MP2 savings and dividends?
Withdraw your money in full after a 5-year maturity period, with your dividends compounded annually
Through annual payout with your MP2 Savings Dividends credited to your savings or checking account enrolled in any of Pag-IBIG Fund's accredited banks.
For members who opt for an annual dividend payout but have no Philippine bank account, such as overseas members, the HDMF shall release their MP2 Savings Dividends as a check.
UITF (Unit Investment Trust Funds)
UITFs are also recommended for starter investors because financial experts and professionals manage them. If you don't have the time or luxury to find out where to invest your money, you can rely on a UITF suitable to your risk profile, whether conservative or aggressive.
A UITF is an investment fund that allows investors to pool their money together to buy or invest in numerous assets such as stocks, bonds, government securities, and funds. Banks, trust companies, and other financial institutions sell UITFs.
Unlike time deposits, UITFs don't earn income through a fixed interest rate but grow in value depending on the assets it carries. Keep in mind that there is a possibility that the market will decline or rise.

Minimum amount to invest: P5,000 and above
Availability: You can buy units of a UITF through your bank trust representative
Earning potential: You can make money with UITF when your units grow in value over time
How to withdraw your money from UITF?
Redeem your Unit Investment Trust Fund before 11 am through online banking. The value of your UITF will be computed following the NAVPU at the redemption date.
Time Deposit
Newbie investors can also start with time deposit accounts since they are considered low-risk investments. Time deposits pay higher interest than regular savings accounts. Besides, it's effortless to gain some money – you just have to open an account, receive the certificate of deposit, and hold it until maturity.
Time deposits are a simple way to earn interest on your money if you cannot tolerate greater risk. Opening a time deposit account can be a good move if you want to keep your savings untouched for a year or more.

Minimum amount to invest: P1,000 initial placement
Availability: Majority of commercial banks nationwide
Interest rate: 0.1250% or more (the higher the amount and the longer the term, the higher the rate)
How to withdraw your money from a time deposit account?
You will get your capital and interest in full at the maturity date of your time deposit. You can also withdraw before the maturity of your account but with corresponding charges like penalty fees and withholding tax.
Index Funds
Legendary investor Warren Buffett recommends having an index fund. If you're just starting your investment journey, having an index fund is a wise decision because you can have exposure to the Philippine stock market and the world's leading stock market indexes.
Index funds are created to match the performance of their benchmark. If you're investing in an index fund like the PSEI, your money will be invested in the top 30 leading companies on the Philippine stock exchange. It means you're diversifying your money and investing it in many baskets instead of just one.
Check out the "Top Performing Index Funds in the Philippines."

What if you want to level up and invest in the NASDAQ 100 index? You can do that, too, even if you're just a beginner investor in the Philippines by buying shares of QQQ. You can also select an index fund that tracks the world's leading indexes like the S&P 500, EURO STOXX 50, Nikkei 225, and UK 100.
Minimum amount to invest: P1,000 or more depending on the fund
Availability: Trading platforms like COL Financial and eToro
Income potential: Shares of index funds will grow over time and depending on the performance of the fund and the market
How to receive your earnings from index funds?
Sell your shares when your fund achieves some decent gains. The money will be added to your cash balance in your trading account.
Treasury Bills
Treasury Bills are short-term securities issued by the government to borrow money from investors. Unlike T-Bonds, T-Bills mature faster – typically in one year or less. Hence, they also pay lower interest than T-Bonds. The Bureau of Treasury offers T-bills with a tenor of 91, 182, and 364 days.
If you're looking for peace of mind, investing in treasury bills is practically risk-free since there is a low probability that the Philippine government will run out of cash to pay you. Another advantage is you'll receive payment in advance before your fund matures.

Minimum amount to invest: P50,000
Availability: Commercial banks nationwide
Interest rate: 1% or higher (depending on the market and tenor)
How to withdraw your money from treasury bills?
Surrender the Confirmation of Sale (CoS) to your bank. Your capital and interest will be credited to your settlement account after the maturity date.
High Dividend-Paying Funds
High dividend-paying funds are excellent investments for beginners in the Philippines because they reward dividend income regularly. These funds invest in stocks with high dividend yields and low price-to-earnings (P/E) ratios. Thus, you can earn more income consistently than owning individual stocks or bonds.
Some dividend funds pay out dividend income quarterly, while others pay monthly. You can invest in PNB Dollar Income Growth Dividend Paying Fund to receive monthly dividend payouts.

Minimum amount to invest: P100,000 or more
Availability: PNB (Allianz PNB Life)
Income potential: Monthly dividend (6.25%) + fund value depending on its performance
How to withdraw your earnings from high dividend-paying funds?
Dividends from high-dividend paying funds will be credited to your settlement bank account. You can get the invested capital after the maturity date and the corresponding gains or losses of the fund value. Either way, you can withdraw earlier than the maturity date but with early withdrawal charges.
Mutual Funds
A Mutual fund is an investment vehicle that allows you to pool your money with other investors and purchase securities such as stocks, bonds, and other securities. They're similar to index funds, but they're actively managed by a portfolio manager who chooses which securities to buy or sell.
Newbie investors can also choose mutual funds to build their portfolios because experts manage them. Take note, though, that mutual funds have a management fee.
Minimum amount to invest: P5,000
Availability: Online trading accounts such as COL Financial and First Metro Sec
Income potential: Fund value depends upon the investment result of mutual funds or NAVPS (Net Asset Value Per Share)
How to withdraw your earnings from mutual funds?
Once your mutual fund results in gains and you're happy about it, you can sell or redeem your shares of your mutual funds to lock in your profit. The cash will be added to your brokerage account.
Blue-chip Stocks
If you're looking for less risky investments as a beginner in the stock market, blue-chip stocks are the most popular because they are viewed as very safe investments. They are usually large, well-known companies that have been around for many years and have survived many challenging economic cycles.
Blue-chip stocks tend to be stable and have a history of paying dividends. They can also be very profitable for long-term investors.

Minimum amount to invest: P3,500
Availability: Online trading account
Income potential: Earn passive income through dividends and asset appreciation
How to withdraw your earnings from blue-chip stocks?
Once your stocks gain 1% or more in value, you can sell your shares to lock in profit. You can withdraw your profit or cash balance through your online brokerage account.
Exchange-Traded Funds (ETF)
ETFs are a type of investment fund that can be traded on the stock market. They have become popular due to their lower costs, diversification, and liquidity than mutual funds.
You can choose to invest in hundreds of ETFs as a beginner. They cover almost every asset class imaginable, including stocks, bonds, commodities, and currencies. The list is constantly growing as new products are introduced by both large investment companies and smaller financial firms.

One of our favorite ETFs is Vanguard S&P 500 ETF (VOO). When you invest in VOO, you also invest in the top 500 US companies because it mimics the investment result of the S&P 500 index.
Minimum amount to invest: P1,000
Availability: Online trading account
Income potential: Earn passive income through dividends and when your ETF value grows over time
How to withdraw your earnings from an ETF?
Like stocks, you can sell your shares of ETF when the fund reaches a profitable position. The income will be credited to your brokerage account. You can withdraw your cash balance on any banking day.
PERA (Personal Equity and Retirement Account)
PERA is a government-sponsored retirement program that allows individuals to invest in various investment products (money market funds, bonds, stocks). It was established through the Republic Act 9505 to help Filipinos save for their retirement with tax incentives.
Besides the tax incentives, PERA also gives you the flexibility to choose who will manage your funds — this has not been possible with other traditional investment options like SSS and GSIS because their funds are managed by only one entity (SSS or GSIS).

Minimum amount to invest: P2,000
Availability: BPI, BDO, Landbank
Income potential: Grow your fund value over time and for retirement
How to withdraw your money from your PERA account?
To withdraw your PERA earnings, close your account by filling out a Notice of Withdrawal or Notice of Termination from your bank. Sign a PERA Quitclaim form and receive your PERA investment funds.
Online Business
One of the top investments for beginners in the Philippines is starting an online business. For starters, it requires less overhead. You can work from anywhere with an internet connection and don't need a physical location to sell your goods or services.
An online business can be very lucrative if you put in your time and effort to succeed. There is no limit on how much money you can make. The only limit is what you can do and how hard you will work to earn it.

Top 5 Online Business Ideas
Here are some of the top online businesses you can start right now:
Dropshipping
Affiliate Marketing
Freelance Jobs
Online Tutoring
Social Media Influencer (TikTok, Instagram)
Minimum amount to invest: P1,000
Availability: Internet
Income potential: Unlimited income, fewer expenses
How to withdraw your money from your online business?
Most online businesses receive payments from PayPal, Payoneer, and bank transfers. Link your local bank account in the Philippines to receive regular payments from your clients, affiliate partners, and customers.
Disclaimer: This article if for information purpose only. All investments have risks. Evaluate your risk tolerance and practice due diligence before you start investing any asset.
Don't miss reading: "How to Invest $500 and Grow Your Wealth?"