This guide is about how to use Magic 10 method investing in the stock market. If you're already a follower here in DailyPik, you have all the access to everything we share not only the Best 10 stocks but also to stock updates and some easy guides including this one.
I assume you already have the following before you start investing in the stock market:
Trade Platform – COL Financial, BDO Nomura, BPI Trade, Philstocks, FirstMetroSec, WealthSec, etc. You can find the rest here and you can also choose one.
Fund in your Trading Platform – have enough money to buy stocks.
Strategy – if you're like us, our strategy is passive long term investing in the stock market.
How to Use Magic 10 Method
Allocate your budget.
Decide how much you want to set aside every month for your stocks investment.
Some people prefer 20% of their monthly income while others 30%.
It really depends upon on every individual's status.
Remember, investing in the stock market is very risky that is why you should never put all your money on it alone.
Some people set aside 5,000, 8,000, 10,000, 15,000, 20,000, 25,000 or more for their monthly stocks investment.
Consider the Boardlot of the stocks listed on our Magic 10 list to know how you can allocate your monthly budget.
Example: Budget = Current Price X Min. Boardlot for each stock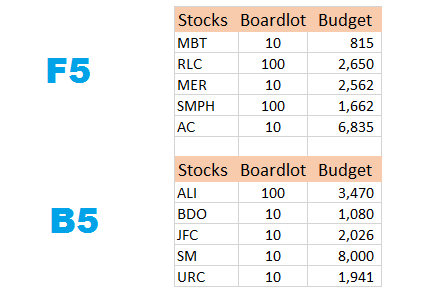 You can also allocate your monthly budget by buying stocks alternately every month or allocating certain percentage to the stocks.
If you're a beginner and your budget is below 10K, you can buy 2 F5 and 2 B5 or 3 F5 and 2 B5 if you can.
Eventually, you will build up more money as you invest. Thus, you can buy more stocks.
It is also helpful to give priority buying the stocks according to Estimated Growth (you can sort the table) or when the Current Price is too far from the BBP.
BUY when the Current Price of the stock is below the Buy Below Price.
Take note of the ACTION to know if you must BUY, SELL, and STOP BUYING the stock.
Also take note when there is HOLD action from any of the Big 5 stocks. That means, you must hold the stocks and pause buying for a while as it likely overvalued or would go cheaper anytime soon.
Sell the stocks and reap profit when there is a SELL call-action. We usually send alerts too.
Use your profit to buy another stocks. Money rolling is money growing.
Wait for the stocks to grow.
They can't make a flower or a fruit in 24 hours.
It usually takes few weeks or some months especially for the F5 but usually faster for the B5.
Our Stock Updates can also help us to know what's happening in the stock market.
Invest slowly and continuously every month and you will become multi-millionaire soon.