URC (Universal Robina Corporation) is among our top 5 permanent stocks for long term here in DailyPik.
I'm sharing here the reasons why URC, the big company founded by John L. Gokongwei, Jr., is on our top 5 stock picks.
URC is and has been a major part of every Filipino's life.
Who could forget Cloud 9, Nips, Big Bang and Chooey Choco?
We loved them when we were just little kids and we still love them until now.
What about Mr. Chips, Piattos, V-cut, Chippy, Chiz Curls, Nova and Roller Coaster and other Jack 'n Jill chips?
The little candies like Maxx, Dynamite, X.O. and Star Pops lollipops will always be part of our busy life.
I'm sure everyone knows Payless instant noodles and C2 Green Tea.
Those products mentioned are only among the thousands of products produced by URC.
To sum up, here are the best reasons why we should invest stocks of URC for long term.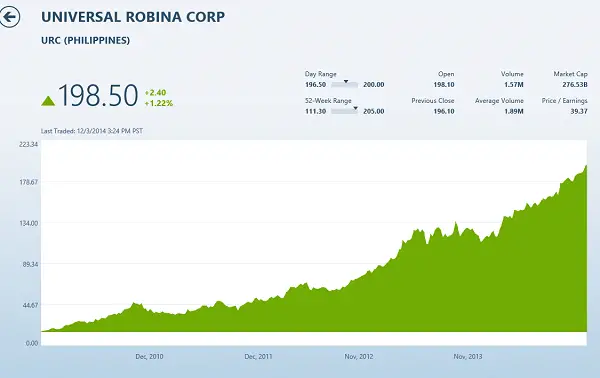 Why you should invest URC stocks
Food is king. URC is the market leader in numerous snack food categories.
URC's corporate life is 50 years old already and I'm sure it will be here for another 50 years or more.
URC also has agro-industrial products and commodity food products
It has whole and majority ownership to CFC Clubhouse Property, Inc.; CFC Corporation; Bio-Resource Power Generation Corporation; Southern Negros Development Corporation; Nissin-URC; URC Philippines, Limited; URC International Co. Ltd.; Universal Robina (Cayman), Ltd.; and URC China Commercial Co., Ltd. (source: PSE)
URC's products are distributed to approximately 120,000 outlets in the country. Yes, that includes SM 🙂
They also export their products
Stock price is not that expensive compared to other big companies (around 190 as of now). I know stock prices are not so relevant to the real value of a company but for a giant company like URC, I think it's safe to say it's perfect for long term.
Their stocks are not typically cyclical and seasonal
If you bought 5000 shares of URC stocks 4 years ago, its value as of now is around 950,000.
Want to invest on stocks and become multi-millionaire? Join DailyPik to be updated with our daily stock picks including what to buy, when to buy, what to hold, what to sell, when to sell.