Here are the top 5 reasons why I invest Microsoft stocks and why you should, too. Microsoft (MSFT) is one of the stocks I'm building in my portfolio right now.
Founded by Bill Gates, who's making around $78K per minute, Microsoft is among the most valuable public companies in the United States and the world.
While Bill Gates is not the largest stockholder of Microsoft anymore, MSFT is still among the leading stocks reaching $1 trillion market value in 2019. The tech giant is one of my favorite stocks to invest right now. I am sharing in this post the reasons why.
I'm investing and trading international stocks on eToro. In addition, I'm also open in trading indices, ETF, commodities, and currencies. You can check out my portfolio @tradecatalog and see how I allocate my money right now.
Just a reminder, investing and trading have risk. Always remember to invest and trade only what you are comfortable to lose. You can make lots of money with investing as long as you know your objective and your strategy. You can lose money if you trade without an effective strategy or if you do it with your emotion.
Top 5 Reasons Why I Invest Microsoft Stocks:
Robust Fundamentals
Big Potential
Recurring Profit
Global Target Market
Long Term Growth
Robust Fundamentals
Microsoft's stock rose up at almost 30% in 2019 with impressive earnings. The company has strong balance sheet and attractive valuations. No wonder why MSFT is among the top stock picks in the S&P500, NASDAQ 100 and Dow Jones right now.
MSFT investors also enjoy dividends regularly. I am looking forward for a continuous growth of this high-profile company in the years to come.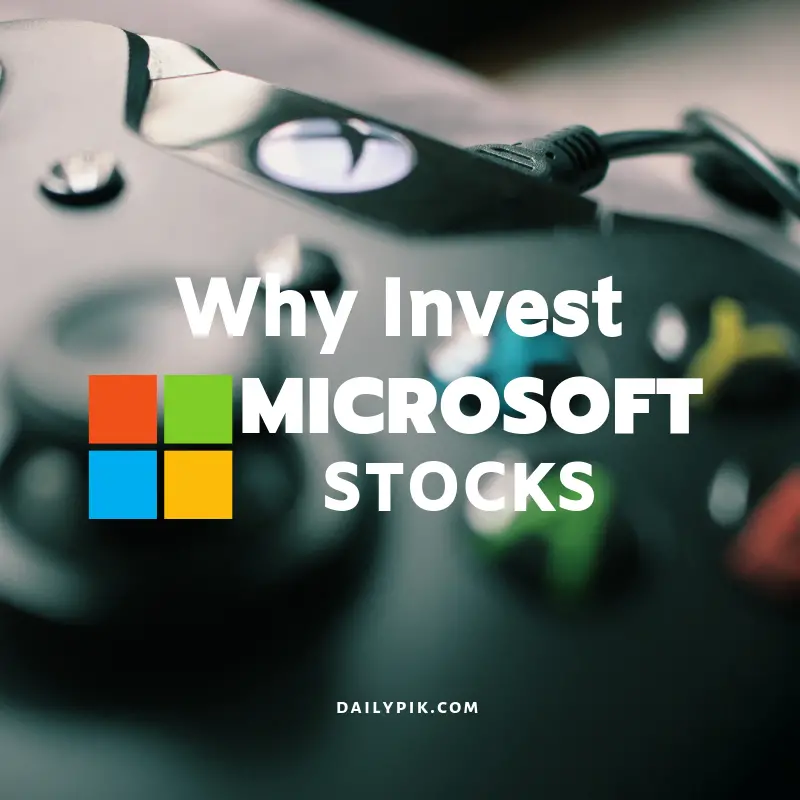 Big Potential
If you had invested 100 shares of Microsoft stock in April 2009, its value after ten years would have given you almost 700% total return in profit.
Microsoft has transformed from the PC-era software company into one of the world's leader in cloud computing and AI. I'm liking how MSFT has grown into what it is today. See the amazing chart below.
Recurring Profit
It's 2020, are you still using Microsoft Word? What about Excel? I'm using their software everyday as I subscribed with their cloud-based Office 365. Microsoft also owns Skype, Linkedin, Xbox, Bing, Azure, MSN, GitHub, Nokia's Mobile Business, Minecraft and many more. MSFT creates continuous cash flow earnings from its subscription-based business.
Global Target Market
Microsoft's target market is not only the US but the whole world. MSFT's goal is to gain additional business deals to its cloud-computing services and produce recurring income from its subscription-based industries worldwide.
Long Term Growth
As technology evolves, Microsoft continues to be one of the most stable tech companies in the world. Serving a global audience with the most advanced cloud computing and Artificial Intelligence infrastructure, it always paves the way to innovate new tech products and services to the future.
Microsoft constantly acquires new companies with excellent potential. Just recently, it acquired PromoteIQ, a New York-based company that helps major brands and sellers diversify their ecommerce offerings.
Microsoft Stocks Investing Strategy
For many investors, MSFT is one of the best stocks to invest and hold on forever. As for me, it is attractive to buy and hold Microsoft stocks right now in spite of the US and China trade war. Many Wall Street analysts and fund managers are in a "Buy" mode for MSFT while valuation is fair.
My strategy with MSFT is to buy and hold it for a few years. I have some buy positions already since I started trading on eToro just recently. I have some tech stocks like Apple, Amazon, and Google aside from MSFT. Tech stocks are volatile but yeah, the market is always volatile.
I use X1 leverage for most of stocks to avoid some charges. Moreover, I use zero stop loss because I always believe the price will go in my favor. They always do go up. 🙂
Want to invest excellent stocks?
Invest on eToro now! It's free to open an account. You can also connect with me there. My username is @tradecatalog. Better yet COPY me if you want the same goal like mine.
Related Articles: