How to trade US stocks in the Philippines in 2021? If you're investing and trading in the Philippine stock market for a while now, I'm sure that question has already crossed your mind.
I've been investing with Philippine-listed companies for many years now, and my local investments are still intact. Although there is a pandemic, using PSEI as a benchmark has rewarded me much profit in choosing the best blue chips and allocating some funds to the country's best mutual funds.
Then came the time when I wanted to benchmark the NASDAQ 100 and the S&P 500 index. I got very interested investing in companies on the New York Stock Exchange, even though opening an online US trading account requires many documents.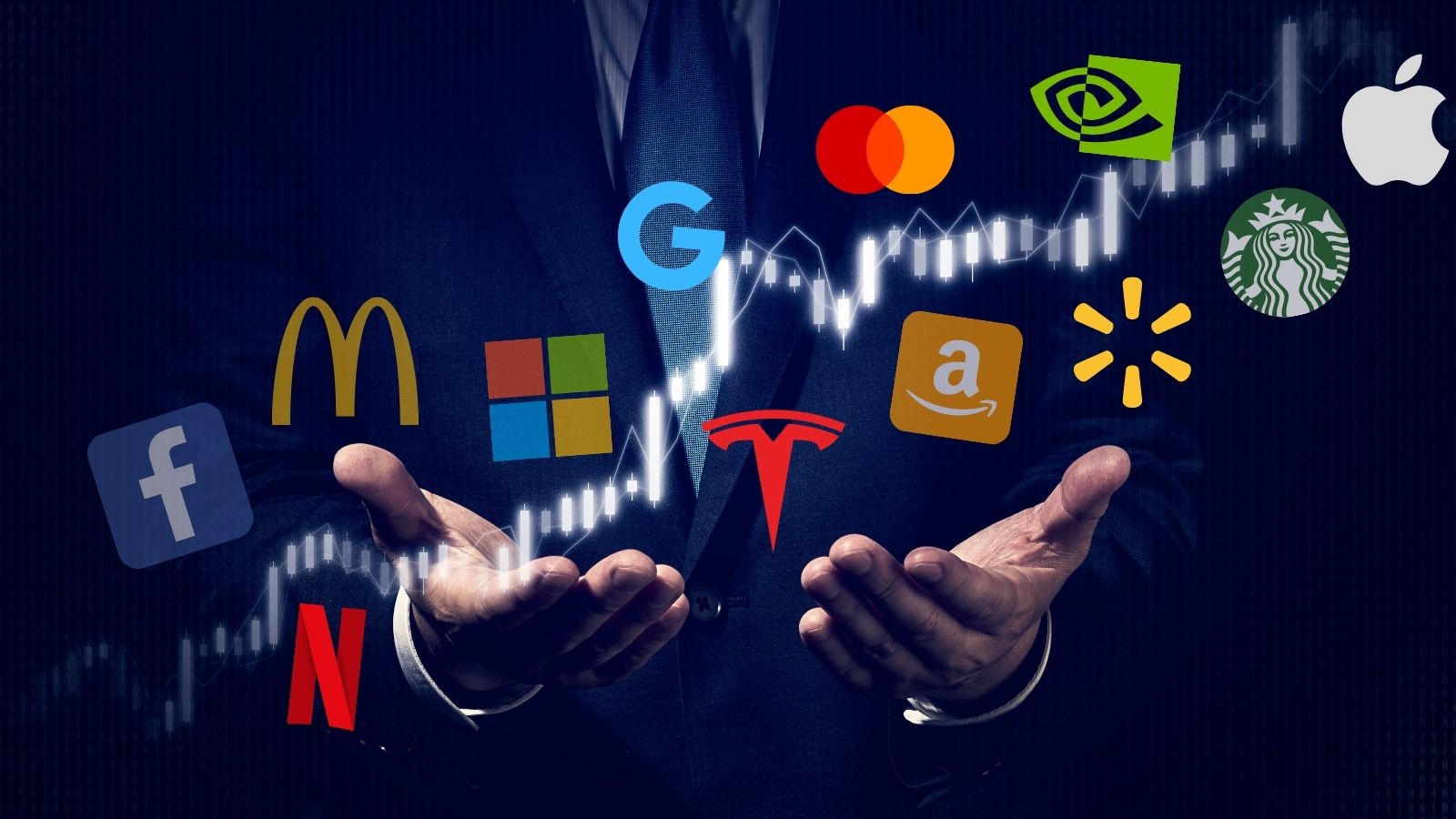 Trading US stocks used to be so expensive. Fortunately, nowadays, we can invest proportional shares of US equities for as low as $50. That is close to the average budget for buying stocks in the Philippine market. To learn more about how to trade US stocks from the Philippines, continue reading below.
5 Benefits of Trading US Stocks in the Philippines:
1. Profitable Investment
Stocks generate higher income than bonds and regular time deposit accounts. If you have some shares in Ayala Corporation, SM Prime Holdings, and other Philippine companies, owning some shares in US companies like Apple, Microsoft, Tesla, Starbucks can expand your profit potential to a broader horizon.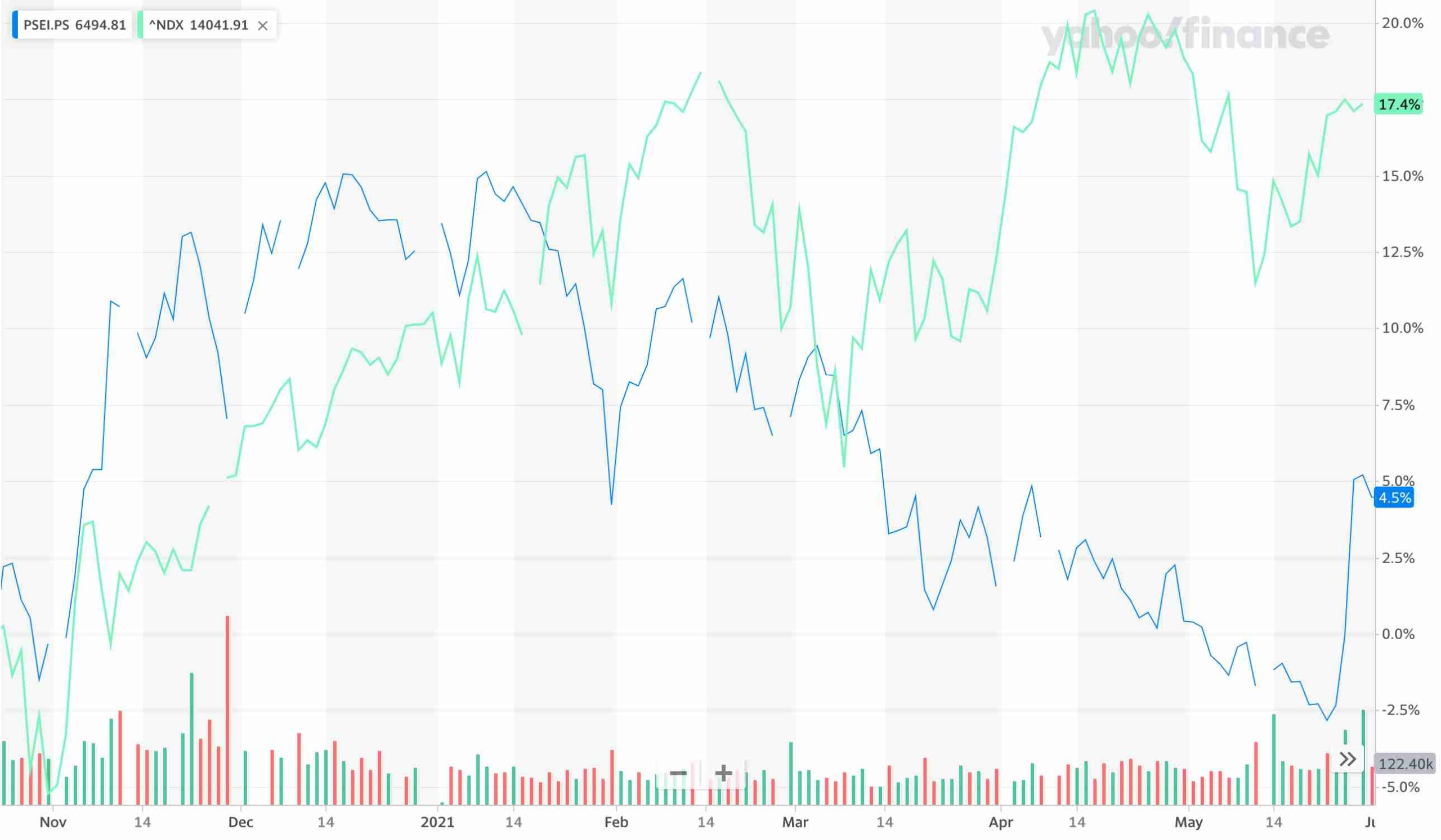 Take a look at the profitable result of the NASDAQ Composite Index compared to PSEI (taken from Yahoo Finance). The performance of the US index in one year is still around 17% amidst the pandemic. If you invested in NASDAQ a year ago, you would have made 17.40% of income in dollars while you are in the Philippines.
2. Bigger Market
The United States has two of the biggest stock exchanges in the world – the NYSE and NASDAQ. Their respective market capitalization are gigantic; they are in trillions of dollars.
Many of the world's largest public companies are also from the United States, including Walmart, Amazon, Apple, JPMorgan Chase, Berkshire Hathaway, and many more.
When it comes to trading, the bigger the market, the better because traders and investors can find endless opportunities.
3. Wider Selection of Stocks
There are thousands of publicly listed US companies ranging from blue chips to small-cap and high-dividend growth stocks. You can pick from any industry you are interested in having exposure to. Both long term investors and active traders can benefit from their selection of numerous companies.
4. Higher Liquidity
Many US stocks can be traded on different stock exchanges, brokers, and other trading platforms globally. With a broader market and global access, most US stocks have higher trade volume than our Philippine stocks.
Trade volume affects active price movements and contributes more liquidity. Traders can enter and exit positions quickly.
5. Stronger Economy
The US is the biggest economy in the world and one of the strongest. According to NASDAQ, the US has a nominal GDP of $21.44 trillion, which constitutes one-fourth of the world economy.
The US economy has a strong impact on the rest of the world. Have you also noticed that whatever is happening to their stock market often affects other stock markets?
Investing in well-established US companies can help you achieve capital growth. It is important to study each company's fundamentals before buying your shares of stock.
What Time Does the US Stock Market Open If You Are in the Philippines?
NYSE and NASDAQ stock market open from 9:30 a.m. to 4 p.m. Eastern time. Philippine time is ahead, so it is equivalent to 9:30 p.m. to 4 a.m. (10:30 p.m. to 5 a.m. after daylight saving time). If you are an active trader, you can spend your day trading PH stocks and some hours at night trading US stocks.
How to Trade US Stocks in the Philippines in 2021:
Open an Online Trading Account Offering US Shares
Build Up Your Watchlist
Set Trade Signals and Alerts
Open a Trade Order
Apply No Leverage
Set a Stop Loss
Set a Target Price
Lock in Your Profit
Trading US Stocks in the Philippines (Step-by-Step Guide with Pictures)
1. Open an Online Trading Account Offering US Shares
The first step is to open your online trading account that offers US stocks. Some brokers offer commission-free investing like eToro. It is available for citizens and residents of the Philippines. Other online brokers are available only for US citizens and residents.
It's straightforward to open an eToro account. Just sign up and provide your accurate details to complete your profile. A quick way to verify your account is by uploading your passport and latest credit card statement to prove your identity.
2. Build Up Your Watchlist
The second step to trade US stocks while you're in the Philippines is to build up your Watchlist. Having an organized watchlist will help you monitor the companies where you want to invest.
Tip:
Add S&P 500, NASDAQ 100, and Dow Jones index at the top of your watchlist so that you know what's happening in the US market.
These indexes mostly track the largest publicly listed companies in the United States. That being said, they could help you anticipate the daily status of the market. If all the three indexes are in red, most of the stocks will likely follow.
3. Set Trade Signals and Alerts
This procedure is optional but very helpful as it gives you an alert before you enter or exit your trade positions to lock in your profit. For instance, if you want to buy Tesla shares only below $400, setting that alert price will signal you before executing a trade.
4. Open a Trade Order
If you're ready to start trading, just select your US stock and open an order. Open a BUY order if you want to invest in the stock or if you believe that the company will continue to be profitable.
Otherwise, open a SELL order if you believe that the stock price will fall any moment after you opened the trade.
5. Apply No Leverage
Applying X1 leverage means that you are trading and investing in the underlying asset. That will also allow you to pay zero commission fees. No leverage also provides minimal risks.
If you are investing for long term, having no leverage will also give you peace of mind because you will not pay daily fees.
6. Set a Stop Loss
Stop Loss is a useful feature as it provides an extra layer of protection to minimize loss of money. Set up your preferred stop loss, and your trade will close automatically if the stock reached that price.
For example, you are investing $100, and you don't want to lose more than $50 from a trade; you can set up 50% SL (Stop Loss) to protect your money from losing more than half of your investment.
7. Set a Target Price
For every trade you make, you must have a target price or target profit. Setting up a TP (Target Price) will let your trade close automatically when it reaches its target price. That means you can close a profit even when you're sleeping or offline.
You can adjust your target price any time you want to as long as the position is still active.
8. Lock in Your Profit
To lock in profit means to realize your gains. There are two ways to lock in your profits – the first one is by setting a TP (Target Price), the other one is by closing your trade manually.
How to close a trade manually? Simple, click the "Close" trade button and your trade will be closed when the market is open.
Is it Better to Invest in US Stocks than Philippine Stocks?
The answer depends upon the investor because every investor is different, and every investor has his own trading strategy and perspective. US stocks and Philippine stocks both offer trading opportunities. You can attain profitable investment if you know about the companies' fundamental and technical and if you're aware of the effects of catalysts of the local and global economy.
How to Grow Your Money Investing in US Stocks?
The best way to grow your money investing in US stocks is to choose the best high-quality US stocks that generate consistent income and lock in your profit regularly. Mix your portfolio with the best blue-chip stocks, high-dividend growth stocks, and an ETF that tracks the NASDAQ.
Other Helpful Trading Guides:
Disclaimer: This content is for information purposes only and should never be considered as professional advice. Every investor has a different risk tolerance and goal. Always do your own research. All investments have risks. Risk only the money you're not afraid to lose.