This is how we earned 28.24% by investing MPI stocks. MPI is among our recommended Blue Chip Stocks and was among our Undervalued Stocks here in Dailypik.
We are very happy because we exceeded our expectation for MPI as our estimated revenue for it was only around 20%.
Before we discuss here how we made that profit, let us first have a brief info about why we like MPI.
Why we Invest with MPI?
MPI (Metro Pacific Investments Corp.) is headed by billionaire entrepreneur Manny V. Pangilinan.
Right now, MPI is included in the PSEI listed companies.
It is a holding company for investments in water utilities, toll roads, electricity, hospitals and light rail.
To sum up, check out below the businesses MPI is involved with: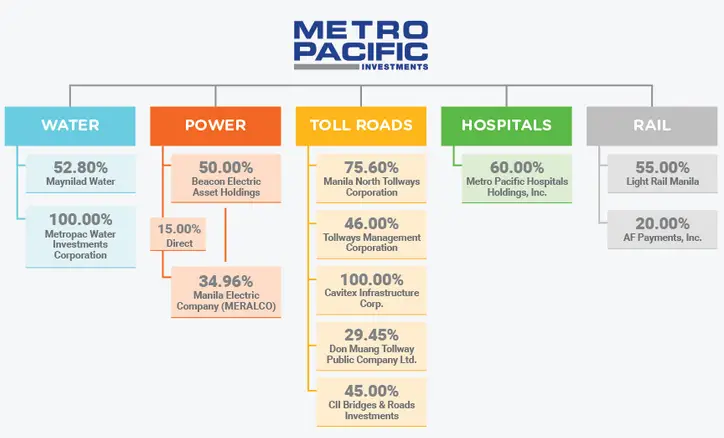 Reasons Why We Invest MPI Stocks:

It is among the best blue chip stocks in the Philippines
It is under our recommendation of BPPI stocks (Bank, Power, Property, Infrastructure)
It is the leading Infrastructure holding in the country
We love recurring income, at a 5-quarter trend as of September 2015, MPI had 9.36 billion in Sales Revenue (source: Wall Street Journal)

How We Earned 28.24% Investing with MPI
Patience is not only a virtue, it also makes more money. We have started with MPI many months ago and while the stock market was swinging up and down, it was taking so long to reach our target with our stocks.
Many stocks tanked and went below their BBP again.
But with consumer companies like JFC and MPI, the effect is not always tantamount.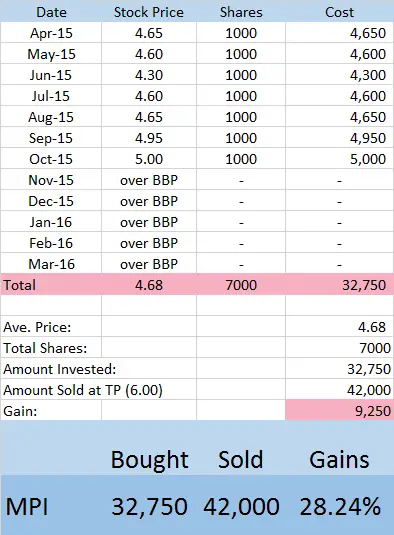 MPI Stocks Forecast
Even though we have reached our Target Price of 6 for MPI from our Undervalued Stocks list, we expect it to reach as much as 6.52 this year.
We are still confident with MPI, having recurring income from its businesses, population growth will also contribute to its positive progress.
We are done flipping with MPI for now but we also recommend it for those who do PCA method.
To end this, I'd like to share one of my favorite quotes related to MPI,
Build more bridges instead of walls"
It's the same with investment and business, you have to expand more opportunities than limit yourself to one.
Happy investing! Don't forget to subscribe, it's free!