MBT Stocks Forecast and How We Earned Money from the Stocks? MBT (Metropolitan Bank and Trust Company) is one of the top 3 banks in the Philippines.
We like investing with big banks like BDO, BPI and MBT because of their strong financials and continuous growth.
On the previous years, we took the opportunity to include MBT among our Magic 10 stocks as the stock price was below its fair value.
UPDATE: We have added back MBT on our Magic 10 Stocks due to new valuations.
MBT was among our Fantastic 5 Stocks we loved to flip.
Now that it reached our Target Price of 92, it's a good time to sell if you are following our F5 strategy.
Either way, you can continue to invest with MBT if it is one of your blue chip stocks to invest for long term.
In this page, we discuss these two different ways investing MBT.
Using Fantastic 5 Stocks Flipping MBT Stocks
Honestly, it took longer to reach our Target flipping MBT stocks because of the many hurdles in the stock market globally and locally.
That is a usual scenario anyway and must not be taken as a distraction. Besides, if you are into investments, you must also invest PATIENCE.
Here's our data investing MBT stocks following BBP (Buy-Below-Price) and selling at the Target. We sold at 93.80 because the stock market was doing a great job ever since President Duterte sat in the office.
We earned money of 8, 017 and made a 13.91% gain which is still good at flipping stocks.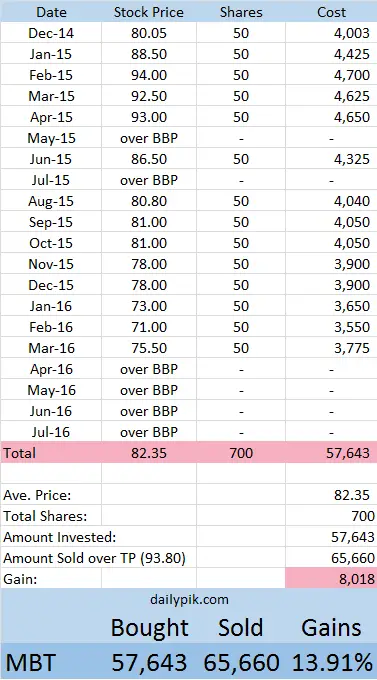 Investing MBT Stocks for Long Term
The second method is investing MBT stocks periodically for long term.
You ask me how long?
Because every person has different objective, budget, strategy and risk appetite, that question must be answerable by YOU only.
Long term typically starts from 5 years to 10 years and it could go longer depending on your status (age, financial status, reasons).
The important thing is, MBT is one of the best blue chip stocks to invest with.
Why should you invest MBT stocks for long term? Read our forecast below.
MBT Stocks Forecast
We are positive MBT will outperform better. This July, analysts project MBT would continue going up and targeting price median 100-119.
MBT had 19.23 Billion revenue on the first quarter, 5.63% above last year's.
Annual revenue last year was 67.40 Billion.
This year, it is expected to go higher. Nonetheless, we, shareholders expect another dividend of P1.00 per share again next year as we got it this year.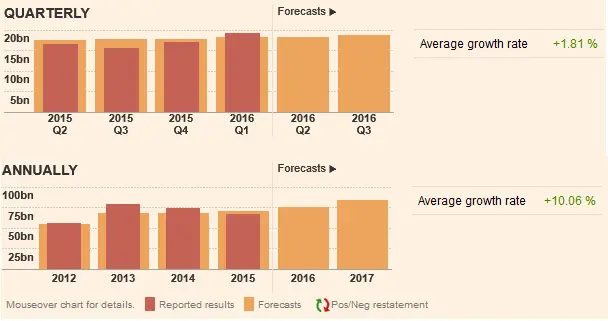 At the beginning of last year, MBT issued 700 million stock rights to its shareholders for major business expansion. That project would contribute to its income boost in the future.
Cheers and happy investing everyone!