How to invest Facebook, Google, Apple stocks in the Philippines? It's simple and easy. Just follow the helpful guide here. Now, we can buy, sell and invest international stocks like FB, GOOG, AAPL, TSLA, and many more using one of the best trading platforms in the world.
I always wanted to buy stocks of big companies like Google, Facebook, Apple, Starbucks, Microsoft, and also invest with other indices like NASDAQ-100, S&P 500, and US Dollar Index.
But it was a big hassle opening an international account while residing in the Philippines. Not to mention, the expensive funding and charges you have to go through with it.
I knew that day would come that some international trading platforms would open their doors to Asian traders and investors. That day finally arrived, you guys. I know you're excited about this especially if you are interested in expanding your portfolio to the next level.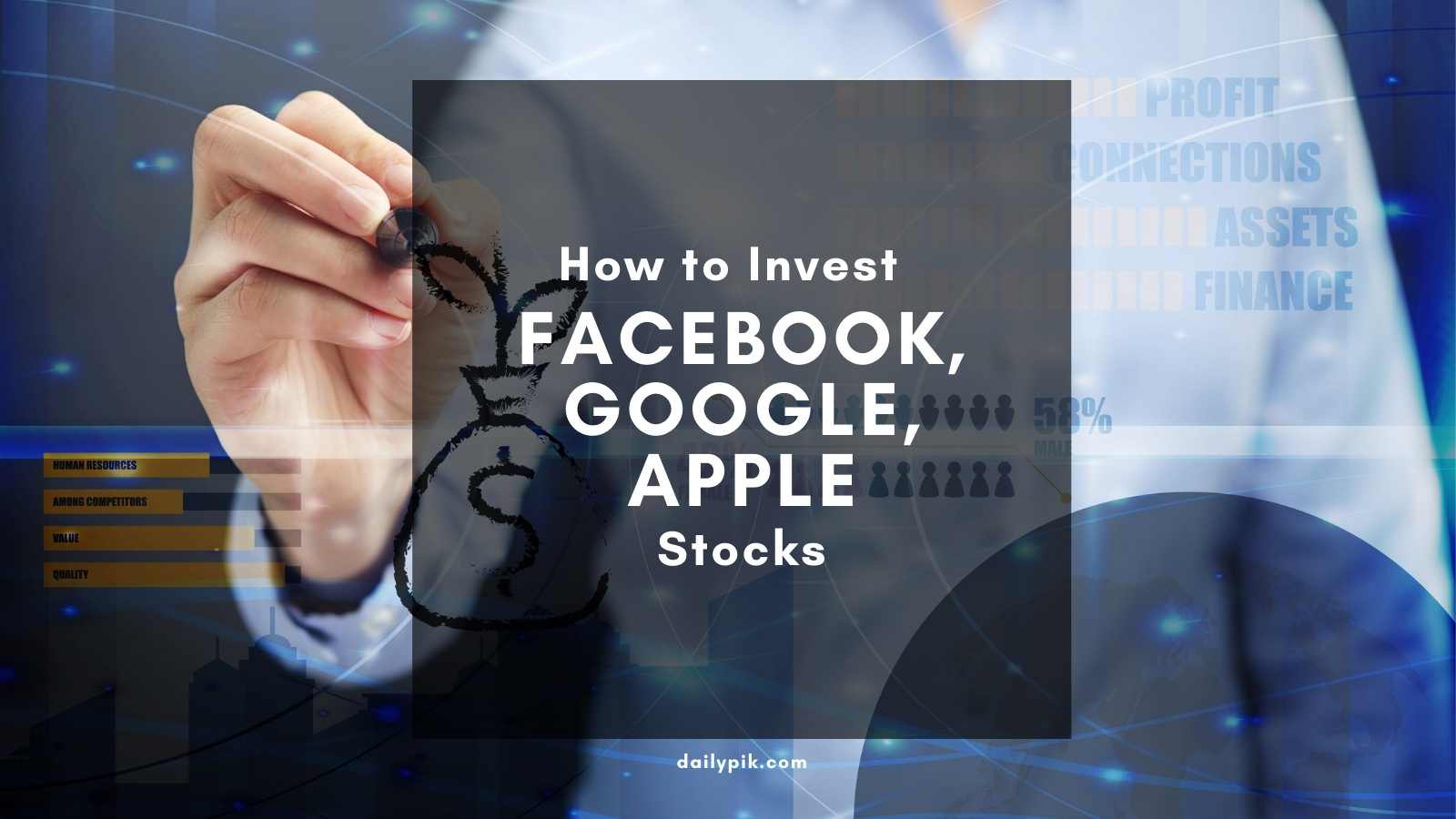 How to Invest Facebook, Google, Apple Stocks in the Philippines in 2021
Open an Online Trading Account
Verify your account
Fund your account
Choose your stocks
Execute a Trade (BUY order)
Set up your Stop Loss and Take Profit
Consider your risk profile
How to Trade US Stocks in the Philippines (Step-by-step Guide)
1. Open an Online Trading Account
eToro is not only a trading platform, it is "the world's leading social trading platform." Founded in 2006, the company is fully regulated by the FCA in the UK and CySec authority in Europe. Now, it is trusted by millions of traders and investors around the world. It is available in over 140 countries.
Disclaimer: eToro is a multi-asset platform which offers both investing in stocks and cryptocurrencies, as well as trading CFD assets. CFDs are complex instruments and come with a high risk of losing money rapidly due to leverage. 67% of retail investor accounts lose money when trading CFDs with this provider. You should consider whether you understand how CFDs work, and whether you can afford to take the high risk of losing your money.
My favorite thing about using eToro is that you can trade and invest in a lot of financial assets including stocks, ETFs like Vanguard Total Bond ETF, SPDR Bloomberg Barclays, currency pairs, crypto like BTC and ETH, indices, and commodities like gold and oil.
You can also copy other top investors' strategy and portfolio allocation. eToro is also a CFD (Contract for Difference) platform. I learn so much in investing and trading different financial assets. I learn a bit deeper about leveraging my money. Getting to know more about the international market is also fascinating.
2. Verify your account
Just like any account online, you need to verify your account to prove your real identity. No worries, the verification process takes only a few steps to complete. You will have to provide your valid ID, utility bill or statement of account, and Tax Identification Number. Before you invest Facebook, Google, Apple stocks in the Philippines, you must activate your account by verifying it.
3. Fund your account
Before you can execute a trade, you need to fund your account. The minimum funding for us in the Philippines is 200 USD. I recommend using a debit card so that it will be easier for you to withdraw your money from your portfolio as well, whenever you wish. Any cash you want to withdraw from eToro will be credited to the debit card you have used.
Another funding options include Paypal, Credit Card, Wire Transfer, UnionPay, Skril and Neteller.
4. Choose your Stocks
Add your stock inside your Watchlist to be able to access it easily whenever you want to trade. Otherwise, just search it from the search box. My watchlist currently have some of the following companies and indices.
5. Execute a Trade (BUY order)
Just head over to the stock of your choice and select the TRADE button and Buy your stocks. In this example I am buying units of Facebook stocks. Although the market price is 191.39, you can buy some units if you can't afford the whole amount per share. In this example, I am buying using $100.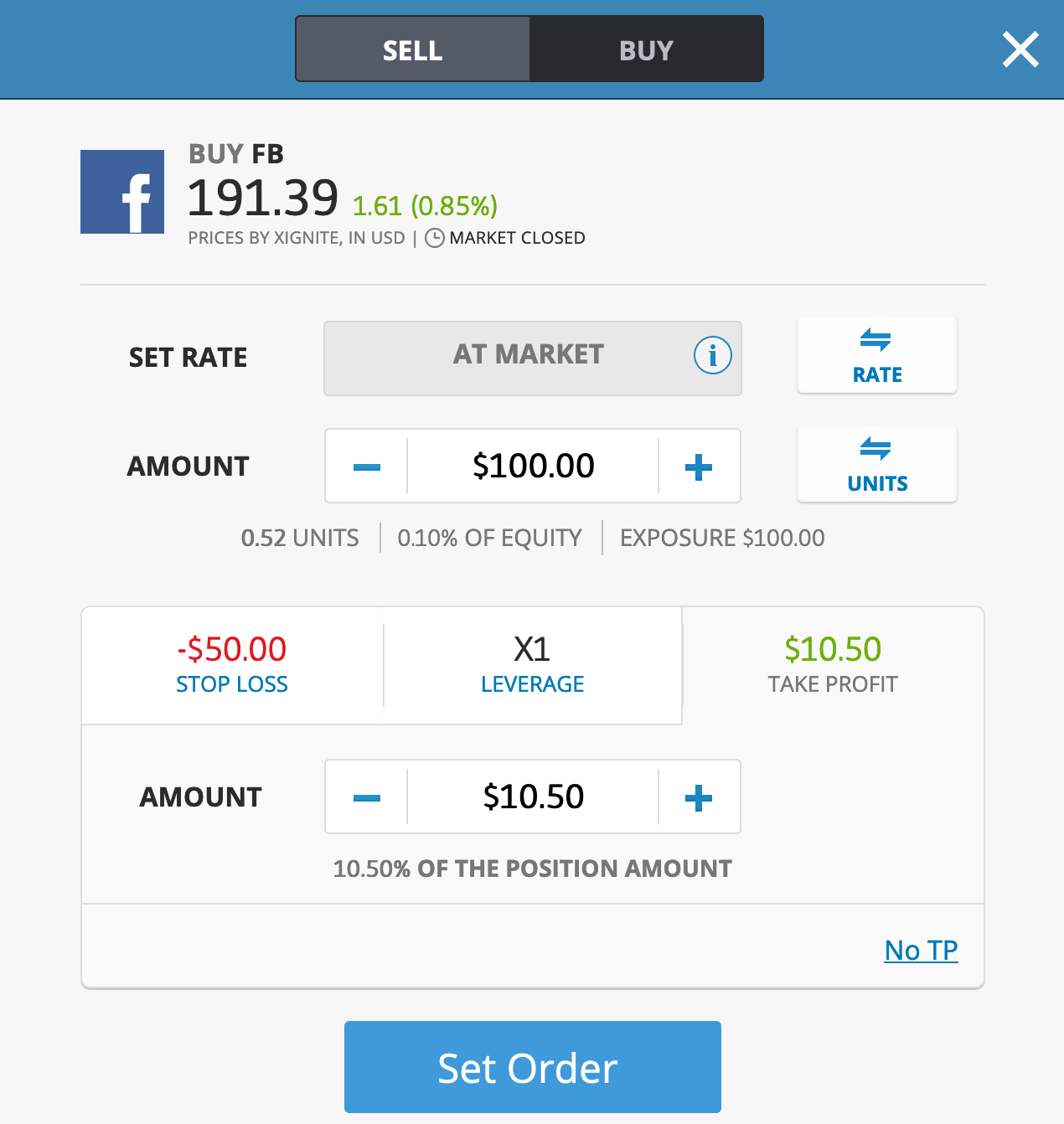 6. Set up your Stop Loss and Take Profit
These are awesome features which add a layer of protection to our investments. You can set up Stop Loss and Take Profit for your Trade order. Your order will automatically close when it reaches the SL or TP.
In the example above, I set up 50% stop loss, using a Leverage of X1, and I set up a $10.50 target profit. This trade will automatically close when it reaches either of the settings and the profit will automatically be credited to my account.
7. Consider your risk profile
Trading and investing have risk. Number one rule is risk only what you are comfortable to lose. If you are scared to lose money, do not trade. It's just that simple.
In the above example, I used X1 Leverage because I am buying with the lowest risk. If you use X2 Leverage and above, you will be making income X2 or more if the trade is going according to your favor otherwise, you will be losing money X2 or more if it's going the opposite. The higher the Leverage, the higher the risk. So, if you are a beginner, be extra careful and avoid using a leverage.
Tip:
Buying shares with X1 leverage will let you invest the underlying asset (stock) without any commission fee to pay.
As a passive investor, my strategy in trading is choosing companies with "Strong Buy" status or those which are currently undervalued. I leverage only small amount with my trades. My objective is to make constant profit slowly as my portfolio grows over time.
Buy Stocks of Facebook, Google, Apple in the Philippines
This will help you experience what I was talking about. Because knowing how to use your trading platform is the first step to minimize risk. You are also one step away from growing your portfolio and investment.
That's it! So easy how to invest Facebook, Google, Apple stocks in the Philippines. Everything can now be done online and every other asset you want to buy is available on your trading platform.
Global Stocks Guides:
Disclaimer: Everything shared in this website is for investing and trading educational purpose only and should not be considered as professional advice. The world of CFD trading involves risk. Risk only what you are comfortable to lose.