Tesla is creating more and more milestones in the past few years. Just recently, it became the most shorted stock in the United States, taking the top spot crown from Apple. After reaching its unbelievable all-time-high, Tesla stock has become at the top of every investor's watchlist because it always leaves many blue chip stocks in the dust.
With over 696 billion market capitalization while writing this, Tesla has a brighter outlook to grow more sales every year.
What is Causing Tesla Stock Soaring Higher and Higher?
The first one is the fact that Tesla is the most successful first mover in the Electric Vehicle market. They build their cars from the ground up using their own software, incredible battery, electric engine, and unique design.
Many people say Tesla is the iphone of Electric Vehicles. Indeed,they have a strong point. Their amazing cars and trucks continue to receive loyal customers. There is a distinctive appreciation of their products. Tesla's genius CEO, Elon Musk himself has created his own fan base.
Tesla's other business segment is energy generation and storage. The company's mission is to accelerate the world's transition to sustainable energy. They manufacture a set of energy solutions, Powerwall, Powerpack and Solar Roof which contributes to their impressive revenue.
Target price upgrades and positive forecasts also encourage thousands of investors to buy more shares. Similarly, the FOMO effect (Fear of Missing Out) causes massive rally when investors rush to buy TSLA stocks.
Another factor is when Tesla always beating their earnings estimates. Consistent earnings help the company to be listed on the S&P 500. Tesla is now also included among the top stocks on the NASDAQ 100.
Let's not forget the opening of Tesla's new Gigafactory where they produce their own batteries at the volume required to meet their production goals.
Here's How Much You Would Have Now If You Invested 100 Shares of Tesla Stocks 10 Years Ago
Investors who had the opportunity to buy Tesla stocks last year are raking in huge profit. What more with those investors who have invested a few years ago. And if you are one among those who invested a decade ago, here's how much you would have now.
If you have invested 100 shares of Tesla stocks 10 years ago, you would have $367,554 by now. That is a total return of 13,074%.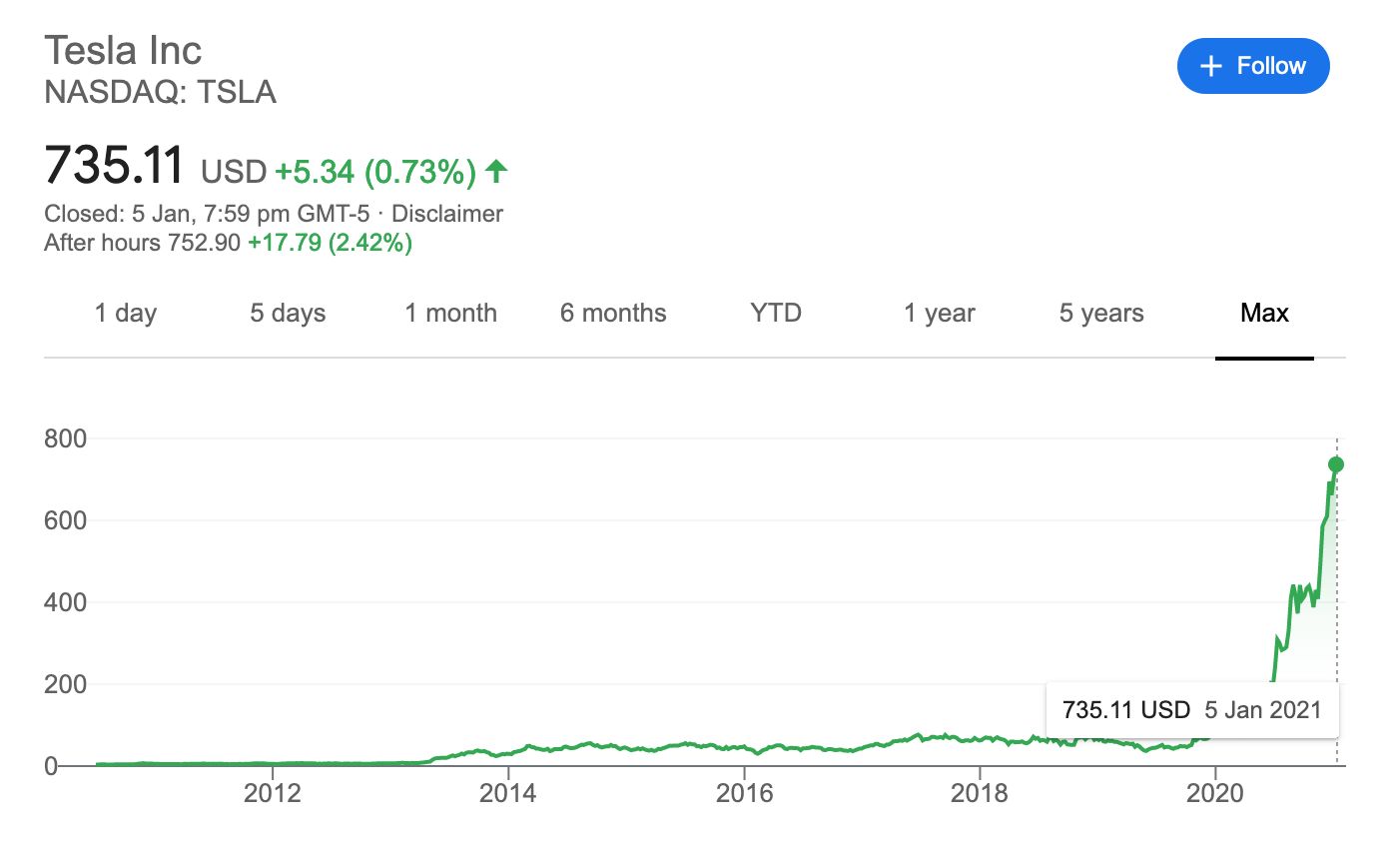 Want to invest Tesla stocks?
If you believe in the long-term potential of Tesla, you can start investing Tesla stocks using the most amazing trading platform, eToro with zero fees. You can even start investing as low as $50.
Other Stock Market Tips: